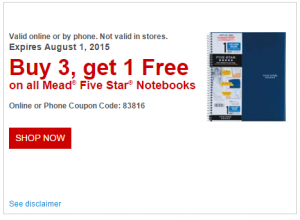 As you probably already know, Staples has some pretty great deals on back-to-school items right now! I wanted to highlight a couple back-to-school coupon deals I just found, though.
First, you can get 25% off school supplies with a qualifying backpack purchase with the code 80545. Select backpack brands include Jansport, Reebok, SwissGear and High Sierra with prices starting at $29.99. Plus, use the code 83816 when you buy three Mead Five Star notebooks and get one FREE. The one-subject notebooks are also on sale for only $3, but after all of the discounts, you could pay as low as $1.69 each, which is a great price for these! And if you add some other school supplies from the Staples Less List, you could snag some super cheap school supplies!
If you'll be investing in a high quality backpack for school this year, this is definitely a deal you want to check out.