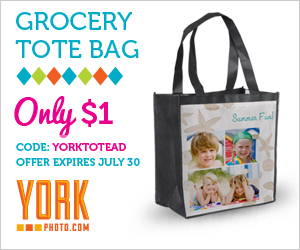 Get a Yorkphoto.com Cutomized Photo Grocery Tote for just $1.00 plus shipping and handling for $3.99 with promo code YORKTOTEAD at checkout.  That's $4.99 for a one of a kind tote bag!  Just register or Sign in to your free account and browse through all of the cute designs and customize with your own photos or artwork.  The tote measures 12×13.5 and is environmentally friendly. 
As an added bonus if you're a new customer you'll get 40 free prints as well!
This offer is valid through 7/30/12.