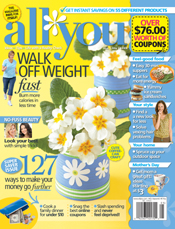 Have you stopped by the All You website lately?  Well, if you haven't then let me tell you that it has been redesigned.  There are many things that are new but my two favorites are:
Easy to access food section with budget family meals.  Also a particular section called "Super Cheap meals" gotta love that.
However, my favorite section is their new coupon section.  You can now print coupons on the All You website and do you know how a lot of the coupons on the magazine are exclusive?  Well, they have worked hard to also bring you exclusive printable coupons as well.  For example, right now you can print a coupon for $1/1 any Success Rice product and $1/1 6 pack Snapple Peach or Lemon tea.
Are you also wondering what coupons will be on the August Issue of the magazine?  They now have an All You Coupon Index, so make sure to book mark this page so you can get sneak peeks at the coupons in upcoming issues.  Don't forget to stop by the Giveaways section.  Right now they are giving away a 40-inch HD LCD TV, plus it seems they will also have free sample offers, sweet!
So, stop by the new All You Website and make sure to check the new features.