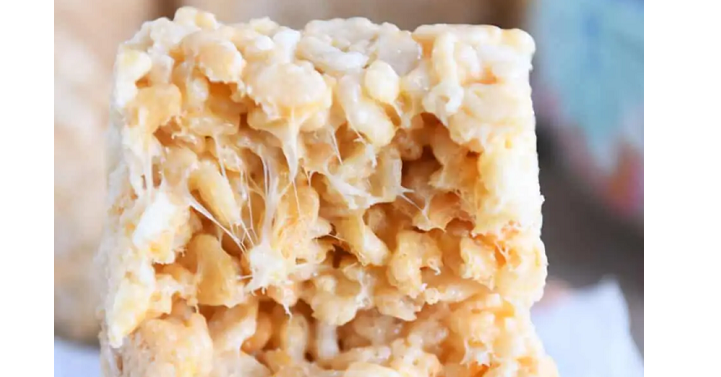 Yum. If you love Rice Krispie Treats, then you're surely love this variation. I love these easy treats for after school when the kiddos get home, or for a lighter Sunday night treat. They are so easy to make even your kiddos can help you make them. This recipe and photo is by Mel's Kitchen Cafe. She seriously has the best recipes.
Yummy Butterscotch Rice Krispie Treats Recipe
Recipe & Picture by Mel's Kitchen Cafe
INGREDIENTS:
1/2 cup (8 tablespoons, 4 ounces) butter (I use salted)
 16 ounces large marshmallows
 1 teaspoon vanilla extract
 Pinch salt
 8 cups (8 ounces) crisp rice cereal, like Rice Krispies
 1/2 cup (3 ounces) butterscotch chips
DIRECTIONS:
Butter the bottom and sides of a 9X13-inch pan. Set aside.
In a large saucepan, melt the butter on low heat and let it cook until the solids start to turn golden brown and it smells caramelly and fragrant (here's a browned butter how-to if you'd like a visual).
Add the marshmallows and cook on low, stirring constantly until mostly melted, a few small lumps here and there are ok. Add the vanilla and salt and stir to combine.
Remove the pan from the heat and add the rice krispies and butterscotch chips. Stir until evenly combined.
Scrape the mixture into the prepared pan and using lightly greased or barely wet (with cold water) hands, lightly press the mixture into the pan (mashing them too hard and you'll end up with very firm rice krispie treats – so use a gentle hand if you want them chewy). Let cool before slicing into squares.