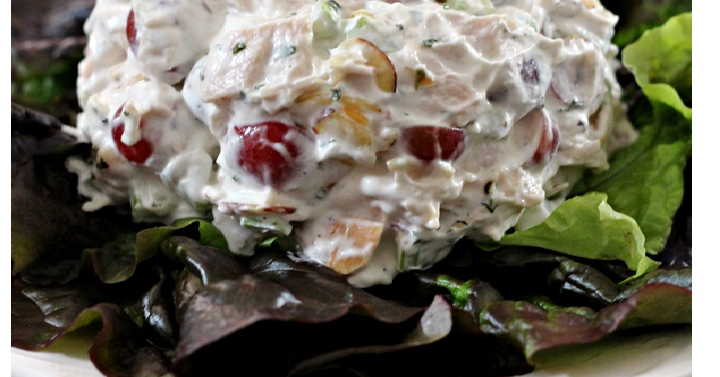 I really don't like thinking about what to make me for lunch everyday. It's exhausting! So when I saw this recipe I know this would be one I could make over and over again. If you are on a low carb diet, then just put this on a bed of lettuce and go to town. This one is easy to make and super yummy.
Neiman Marcus Chicken Salad
Recipe and picture by Jam Hands
Makes about 6 cups
Ingredients:
1 lb. cooked chicken breasts, cut into 1/2″ cubes  (I like to use rotisserie chicken)
1 cup good quality mayonnaise
1 cup finely diced celery
1 cup halved purple grapes
1/2 cup sliced almonds, toasted
1 Tablespoon finely chopped parsley (I used 2 teaspoons dried)
1 tsp, kosher salt
1/2 cup freshly whipped cream
Freshly ground black pepper, to taste
Directions:
If you  haven't already done so, toast the almonds (400-f degrees for 7 minutes) and whip heavy whipping cream.
Combine the chicken, mayonnaise, celery, grapes, almonds, parsley, and salt in a bowl. Add whipped cream and pepper; fold to combine.
Serve on lettuce or a croissant.