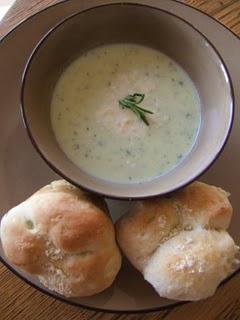 The zucchinis are here and by the truckload. This is what I made for dinner last night: zucchini soup and zucchini dinner rolls.
The soup is incredibly easy to make. In a large pot, I added two tbs olive oil and a quarter onion diced and cooked until translucent. To this I added 8 cups of cubed zucchini and 4 cups of water plus two chicken bouillons. Bring to a simmer and let cook until the zucchini is cooked through. Then I turned into puree in the food processor. I returned this to the pot and added one can of fat free evaporated milk. This makes the soup "creamy" while being "waist" friendly. Add salt and pepper to taste and cooked until warm.
The Zucchini rolls are easy to make as well. You will need:
1 cup coarsely grated zucchini
1/2 tsp salt
3 1/2 cups of all-purpose flour
1 package rapid-rise dry yeast
1/2 tsp sugar
1/2 cup of grated Parmesan cheese
1 cup warm water (120-130F)
1 tbsp vegetable oil.
In a colander, combine the zucchini and salt and set aside for 30 minutes. In a large bowl combine the 3 cups of flour, sugar, yeast and all but one tbsp of the cheese. Press the zucchini to drain well. Add zucchini to flour mixture and combine evenly. Stir in water and oil and mix until you have a soft and manageable dough. Turn into floured surface and knead until dough is smooth and elastic. Use as much of remaining flour as necessary. Shape dough into ball and place in lightly oiled bowl (I used Pam). Cover with clean cloth and set in warm place for 20 minutes. Meanwhile spray with Pam a 12 muffin-pan. Punch the dough down and divide into 12 pieces. For clover leaf rolls like the ones I made, divide each piece into thirds and make three small balls and place balls into a muffin-pan cup. Sprinkle with remaining Parmesan cheese. Cover the pan with a clean cloth and let rise in warm draft-free place until rolls double in size or around 40 minutes. Bake at 400F for 20-22 minutes or until golden brown and sound hollow when tapped with a finger tip.
I want to credit my friend the chef for the zucchini soup recipe. You can add frozen corn kernels for an extra bite. I also keep cooked shredded chicken in the freezer that I add to homemade soups like this one.
Finally, I want to leave this post with a funny. I told my husband the name of this post and he asked me how come I didn't make it a triple whammy? It seems I forgot the dessert: zucchini bread. His favorite way to eat vegetables.