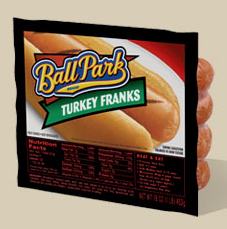 This $0.75/1 Ball Parks Frank coupon is a great one to start the day! This is slightly higher value than the $1/2 we usually see. And if you have a store that doubles coupons you are looking at getting a big discount on this brand of hot dogs.  To find this coupon, click here and then click on the ad banner at the very top of the page that looks like this.

UPDATE: This coupon is printing as $0.75/2 for some and $0.75/1 for others.
The next couple of months is the time to stock up on hot dogs.  We will be seeing a lot of deals and coupons for this product.  I am still waiting for the coupon and deal for our preferred: Hebrew National.
Thanks, Printable Coupons and Deals!