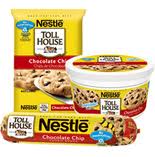 If you buy Nestle Tollhouse Cookie Dough then maybe you will want to go through this process to get this high value $1.50/1 printable coupon available right now on Facebook.  Visit the Nestle Tollhouse FB page and go to the Ultimate Cookie Swap tab.  Enter your date of birth and click on "Continue".  Allow access to their app to post things to your feed.  Then enter your contact info and after you submit you will have access to the page that has the link to this coupon.  This should make for very cheap cookie dough.  I believe you can find this on sale often 2/$5.
Too many hoops for me so I am just going to choose to skip the cookies anyway.
Thanks clip and follow!