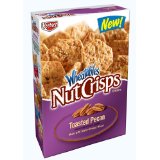 There is a new high value Wheatables coupon available:  $1.50/1 Wheatables Nut Crisps or Crackers.  These crackers sell for around $2-$2.50 so you are looking at as much as 75% off  just by using this coupon.  Thanks to Brea for letting me know these sell for $1.98 at Walmart.
Here are other coupons available as well:
$1/2 hefty zip bags (look for travel size at Walmart at Kmart selling for around $1)
$1/3 Libby's canned vegetables
$1/1 Bic stationary product (the clear pens go on sale for $1 often)
$0.55/1 Pepperidge Farms Deli flats thin rolls
Thanks Printable Coupons and Deals!