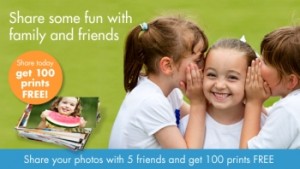 Want to get 100 FREE prints from Snapfish? Right now they have a promotion going that will give you just that! Just share your SnapFish with 5 friends or family members before 9/5 they'll send you an email with a coupon for 100 FREE prints!
Here is how this works:
Select the albums you'd like to share and click the "Share" button.
Select "share with an email" to send the albums to five or more different people by Labor Day, September 5.
You'll receive an email by September 15 explaining how to get your 100 free prints.