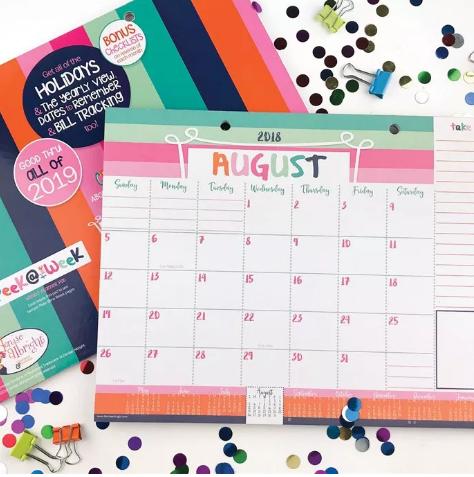 If you grabbed the Reminder Binder, this is a great companion to help you get organized! Head over to Jane where you can get this 17-Month Desk Calendars for only $8.95! (Reg. $14.95) Details include:
Dates span from August 2018 through December 2019. Great timing for back to school!
Its "Sherbet Summer" color scheme coordinates with the 2018-19 edition of the Reminder Binder® planner – create a fabulous planning powerhouse when used in unison with the planner!
It's big enough to provide lots of notes space, but small enough to take it from the office to the kitchen table for your Sunday night planning session.
Repurpose every page by using the columns of lists on the backside. There's even a column with checkboxes because we know you love them.
Monthly thumbnails let you relate dates for each view OR flip to the yearly view of 2018 and 2019 to see the entire year in all its glory.
Jot the monthly Dates to Remember on the perpetual style page appropriately named. Tip: Loved one have a new baby? Get married? Or maybe close on their first home? Adding those special occasions on the Dates to Remember page will make you look like a dove when you acknowledge those life events in the years ahead!
Bills due and budgeting are part of everyone's life…so a Monthly Bills worksheet is part of this planner pad, too!
Take your short term planning to new heights when you use the Peek @the Week weekly planner bonus pages. This vertical, daily layout lets you pare down your household's crazy schedule into a view that is concise for the upcoming! Sections are great for each family member or role in your home…or jotting down that night's dinner menu for all to know BEFORE the "what's for dinner?" series of questioning.
The dry erase backer card is a useful keepsake to keep all your key info at your fingertips. This is great for anyone who may be watching your kids, pets or home.
*Shipping adds $2.99 for the first planner and the $1.99 for each additional planner