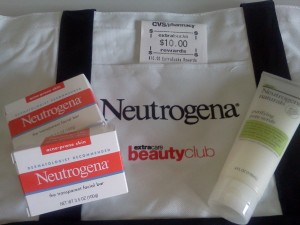 I popped into CVS tonight to spend the $10 ECB that hubby got from the Excedrin deal. There were only two of the Neutrogena facial bars left, but I've been out of my facial scrub and I noticed a peelie coupon on a Neutragena facial scrub.
Here's a quick breakdown of my trip…
(2) Neutrogena facial bars @ $3.29 each ($6.58)
(1) Neutrogena Naturals Daily Scrub @ $8.49
(1) Neutrogena tote bag @ $9.99 FREE wyb 3 Neutrogena facial care items!
– Used $1/1 peelie found on Neutrogena Naturals scrub
– Used $1/$5 body wash, bar soap, or liquid soap (CVS coupon loaded to card)
– Used $10 ECB from Excedrin deal earlier
– Paid $3.07 +tax out of pocket
– Got $10 ECB!!
Going shopping? Check out all of the recent coupon deals we've found!