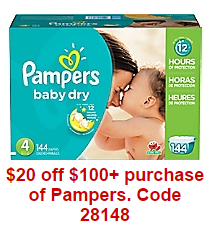 Staples is offering $20 off a $100 Pampers diaper and wipe purchase right now when you use the code 28148. This allows you to stock up on baby necessities without ever leaving your house! Plus, Staples Rewards members get FREE shipping on all orders!
Here's a diaper and wipe deal you might be able to grab:
Buy (2) Pampers diapers, 84 – 168 ct @ $41.99 each
Buy (1) Pampers Natural Clean wipes refill, 504 ct @ $13.99
Buy (1) Pampers Baby Fresh wipes tub, 72 ct @ $3.49
Subtotal: $101.46
– Use code 28148 for $20 off
Final Price: $81.46 for everything! 
If you break it down, that's like paying around $34 per case of diapers and $14.50 or all of those wipes!