If you want to try out Restaurant.com
 but don't want to spend too much money, here's a great deal to give it a test run.
Head over to Restaurant.com
, choose a $25 gift card for a restaurant in your area, and use the code SALE at checkout. This code should also work on gift cards of other denominations as well: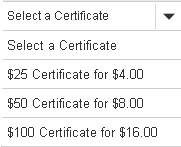 Keep in mind that these are more like restaurant vouchers. You'll have to spend a minimum amount in order to use them. The $25 gift certificates, for instance, usually require a minimum $35 purchase, which means that you'll be spending $14 for a $35 meal.