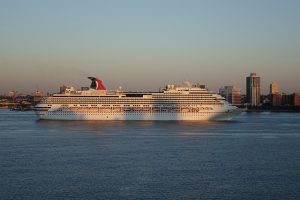 Do you have vacation plans this Summer?  Is your budget preventing you from making those plans?  Luckily, there are options for you to have a blast on a budget and vacation!
If you are ready to start planning, here are 4 cheap vacation ideas for your family:
Head to your nearest National Park.  National parks are a great way to see sights that simply unforgettable (Grand Canyon, anyone?) and comparatively, they are super cheap.  Depending how close your nearest National Park is, you will likely just have a minimal gas bill for the drive and you can choose to either camp or find a cheap motel along the way.  Be sure and check sites such as Expedia and Orbitz for last minute deals.
Go on a cruise.  Okay, okay, I know that doesn't sound like the cheap vacation idea that you were expecting, but if you live near a departure port and you don't have to buy airfare, you can get a smoking good deal!  Like for real, you can sometimes find them for as little as $30 per day!  I just took a quick browse at Expedia and found last minute cruises for as low as $289!
Take a camping trip.  Most of us live relatively close to a campground.  Pack up the family and head out for a couple of days.  Prepack all of your food, bring some cards and dice and have fun!  Campsites often cost anywhere from $10-$30 per night and you are bringing all of your food from home so that isn't a concern.  
Tour your hometown.  Take a couple of days off and become tourists in your own town.  Why not?  You have likely never seen the town as a tourist would and it will be a ton of fun, in addition to giving you a better appreciation for your hometown.  You will still be home so you don't have the expense of lodging, but it will be worth it!
What is the cheapest vacation you have ever been on?