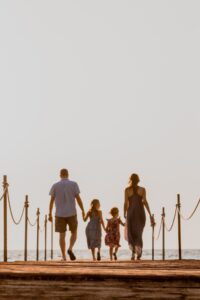 Do you feel exhausted and like your time is no longer your own? Yep, you are a parent then! Seriously, being a parent can be completely overwhelming, especially if you have multiple children and if those children engage in extracurricular activities. It's exhausting to say the least.
It doesn't have to be that way though. Check out these 4 parenting hacks that will help you save your sanity. These are honest to goodness hacks, because they aren't difficult and you don't have to spend a bunch of money. 
4 Parenting Hacks that Will Help You Save Your Sanity
Ask for Help
I know it's hard to ask for help, but you can do it! Ask a relative, a friend or hire a babysitter to help you on days when you really need it. This can mean you ask for help while you are home with your kids (having someone there for the sole purpose of helping you out can help tremendously), or you can take a kid free break! 
Focus on Yourself
Focusing on yourself is difficult. Seriously, I get it. I understand that you are busy working hard to take care of everyone, however if you don't take care of yourself first, you run a big risk of sickness or burnout. Even just 10 minutes dedicated to yourself can make a huge difference in your life. 
Have a Schedule
Break out your phone calendar or do it the old fashioned way with a pen and a paper calendar. You may not think you need a calendar schedule, but trust me, life is so much easier when your schedule is planned in advance. This hack isn't just for you either, this one really does help the entire family. 
Take a Break
Take a break, a vacation, road trip, or anything that you can accomplish. Taking a break from your day to day responsibilities makes a huge difference in how you function on an every day basis. I always get a renewed boost of energy after a vacation.