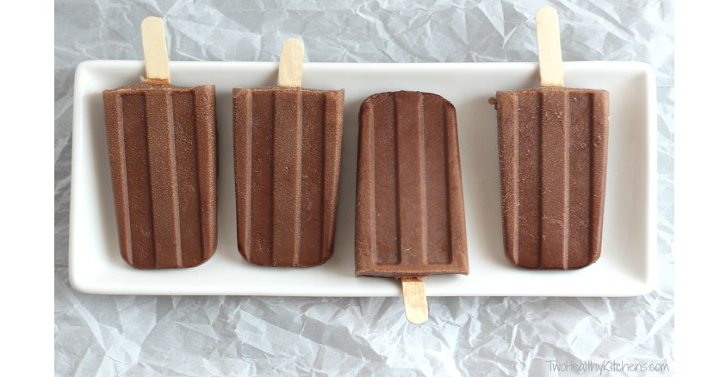 The temperature is heating up and my kids have been begging for popsicles. I'm not a huge fan of popsicles but rather, fudgesicles! We love to enjoy the store bought ones but the money saver in me came out and I found some yummy homemade fudgesicles that cost a fraction of what you would pay in the store. Here's 4 different ones I'm sure you're families are going to love!
Homemade Fudgesicles
3 cups milk
1 cup cream
1 1/4 cups sugar
pinch of salt
2 Tbsp unsweetened cocoa
2 Tbsp cornstarch
Mix ingredients over the stove (leave out the cornstarch) until it just starts to bubble. Add cornstarch and stir until all is dissolved. Fill your popsicle container and freeze.
Rootbeer Float Popsicles
Rootbeer
Vanilla Ice Cream

Start with ice cold rootbeer (you can place it in the freezer for a short time or make sure it's been in the fridge overnight). Then simply layer inside your popsicle mold, ice cream and rootbeer. Put them in the freezer overnight.
Quick & Easy Fudgesicle
1 box Instant Jello Chocolate Pudding (4 servings)
2-2/3 cups milk
This is a simple recipe and whips together quick. Just combine both ingredients and fill in your popsicle mold. (Note: this is more milk than the box calls for but will help you pour into your molds easily). You can use this same recipe for other flavors as well!
Strawberries and Cream Popsicles
4 cups strawberries
3 Tbsp water
3 Tbsp sugar (or honey)
1/2 cup whipping cream
1/2 tsp vanilla extract
Combine your strawberries, water and sugar in a sauce pan and simmer for about 5 minutes until strawberries become soft. Let cool, then puree. Whip the cream and vanilla together for 2 minutes to make soft. Fold in your strawberries and pour into your molds.