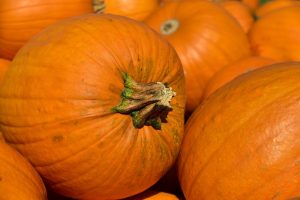 We are just 5 weeks from Halloween!!! Can you believe it?! Just like everything else these days, the cost of pumpkins is rising! If you are like me, you want to be able to grab pumpkins for everyone in the family to carve, plus a few more for some lovely fall decor. So, here's the issue. How can we make it more affordable?
Here are 4 ways to save money on pumpkins this year that will help you feel better about splurging on this autumn must have. 
4 Ways to Save Money on Pumpkins
Find a Local Farm Stand 
I can't tell you the last time we bought our pumpkins at a grocery store. We always buy ours at a local farm stand and we save a lot of money doing it. 
Here are some of my favorite reasons to buy pumpkins at a farm stand:
Price is generally a lot cheaper than in store

There are other great produce items and fall decor items there too

You are supporting local farmers

You know that they are fresh
Use the Scale
If you find pumpkins that are prices per pumpkin instead of per pound, be sure to weigh yours and make sure to get the bigger ones! You are paying less per pound that way and getting more pumpkin for your money.
Attend Community Events
Oftentimes you will find community events happening where they are giving away free pumpkins to kids or offering them for $1 or $2. This is a fun way to get involved in the community, have some fun and save money. 
Check for Coupons
While you will probably not really find a coupon for pumpkins specifically, many grocery stores offer other types of coupons. For instance, I shop at my local Safeway store and in my J4U account I often find coupons for $3 off of any produce purchase, etc.