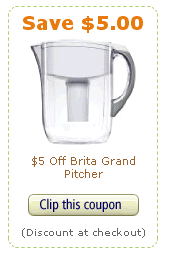 If you're in the market for a new Brita water pitcher, now's the time to grab one. The coupon above gives you an additional $5 off a Brita Grand pitcher, which is already marked down to $32.62. Here are a few details:
10 cup water filtration picture
One filter, which can replace up to 300 standard 16.9 oz bottles of water
Reduces chlorine taste and odor, zinc taste, copper, mercury and cadmium
BPA-free
Comfort grip handle
Electronic indicator, so you know when to change the filter
Final price: $27.62
The pitcher is available in six different colors: the white pictured above as well as red, green, yellow, orange, and purple.

To qualify for free shipping, you may also want to purchase some replacement filters. You can buy just one replacement filter
, or you can buy a three pack of replacement filters
. Your final price when you buy a pitcher and one replacement filter would be $37.57 shipped. If you buy the pitcher and the three pack of filters, your final price would be $42.51.