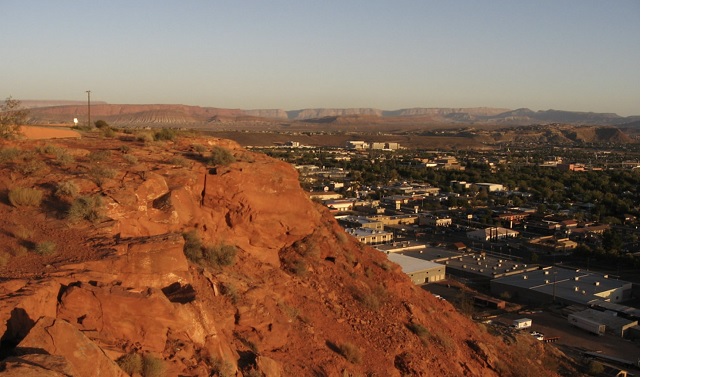 During the winter seasons it's always nice to escape the cold and snow and enjoy some warmer weather somewhere else. Our family loves going south to St. George, Utah. It's a beautiful red rock community that is completely different than the Wasatch front. It's a fun change. If you want to explore, here are 5 Fun & Budget Friendly Things to do in St. George, Utah.
Thunder Junction Park. This park is the best that I've seen in the whole state! It's fun for all ages. You can also ride a fun train around the park for a small fee. There are so many different areas to play in for all ages. There are pavilions as well to bring some food and enjoy being outside. This is an all abilities park which is made for those who need accessibility to the park.
Hiking. There are so many different places to hike around St. George and the best part is it's free! So check out this website and see what route would be best for your situation. If you have younger kids then the shorter ones would be perfect. Be sure to bring water and enjoy the scenery. It's always so nice to be out in nature.
Snake Hollow Bike Park. This is a fun bike park that has some fun trails. There are hundreds of features and four skills zones: Rattler's Revenge (dirt jump zone), Snake Den (pump track and skills loop), Venom Drops (gravity skills) and Sidewinder Slopestyle (gravity jump trails). This is such a fun place to visit. Our kids could have stayed there for hours.
Pioneer Park. This is seriously a favorite for our whole family. This isn't the typical park. It's a rock climbing adventure in open space. While there be sure to clip to the top and see the beautiful view down below. Make sure there is parental supervision while climbing. There are steep ledges, so you'll want to climb together as a family. My little 3 year old even loved climbing around the red rocks. You can find the location here.
Washington City Aquatic Center. We went here with my son's soccer team and they all loved it! There is a BIG slide that circles around (and even goes outside!) that is super fun as well as slides for the younger crowd. You can check out the details here.  If the place you are staying doesn't have a pool then check this place out. It's not too pricey which is nice and fun for the whole family.