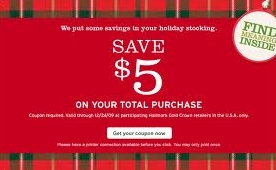 Look inside the following magazines for a coupon for $5 off your purchase of $5 or more at Hallmark Stores:
Nov/Dec MidWest Living Page 17 (sticky/peel off coupon)
Dec. Real Simple (between pages 74-74)
Dec. Family Circle (page 61)
Dec. Southern Living
Dec. Martha Stewart Living (page 93)
Dec. Redbook (pages 53-54)
Dec. Oprah Magazine (Page 111)  Thanks Rhianna!
This coupon was very popular last year because you can use it to get cheap Gift wrap and other things.  So, make sure not to miss this one.
Thanks My Frugal Adventures and Ashli!