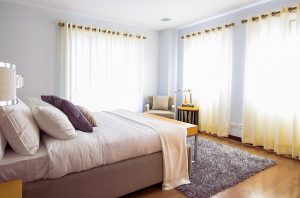 Did your new year's resolutions include being more organized or keeping your home cleaner? No judgment here, if you have kids, it's hard to keep a clean home, I agree 100%. I have a toddler, a teenager and a 10 year old and it seems like a tornado hits my house daily. I feel like I am finally started to get control of it though. Here are 5 tips for keeping your house clean that I have learned over the last couple of years that have really helped me:
A

lways keep your kitchen sink clean.

This has been a big one for me and I honestly learned it while following a blog that is designed to help you be a better housekeeper. The point of this is that if you are always focused on making sure that sink is clean, then you will rarely find your kitchen in disarray. That means putting dirty dishes right into the dishwasher instead of waiting until the sink is full, etc.

Keep a wastebasket in each room.

When you have kids this is especially true. Keeping a wastepaper basket in each room is a lifesaver when it comes to keeping garbage off the floors and out of the nooks and crannies of your sofa. How often do you find little shreds of paper, or candy wrappers tucked into your couch? Or, is that one just me?

Hampers for each room.

I have found that as long as my kids have hampers in their room, I find far fewer clothes on the floor in their room or bathroom. Plus, it's easy for them to do their own laundry when they just carry the hamper out.

Delegate.

My kids are bigger now, which means they can easily do chores. You are not the only one living in your house, that means you aren't the only one that needs to clean it.
Do a quick sweep before bed. I have found so much joy in waking up to a clean house. Before you go to bed, do a quick sweep of the main living areas and pick up anything that needs to be picked up. This will help get each day started off on the right foot.