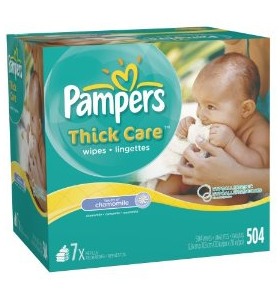 Right now on Amazon you can get 504 Pampers ThickCare Touch of Chamomile Wipes for $9.29! That is 7 tubs of baby wipes, only $1.39 for each 72 count tub.
Have you signed up for Amazon Mom? This deal is only good if you sign up for Amazon Mom so you can sign up for subscribe and save to receive great discounts!
When you use subscribe and save, you are signing up for auto-deliveries   on these products at the interval you select.  However, if after you   receive your order you decide not to continue with   scheduled   deliveries, you can cancel your Amazon Subscriptions at any  time by going to your Amazon account and clicking on "Manage Subscribe and Save Items".