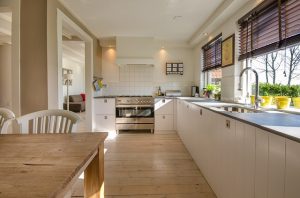 What is the least organized room in your home? If you said kitchen, you are not alone! Kitchens are full of supplies, tools, food and more, all of which are easy to let get out of hand if you aren't careful.
Here are 6 kitchen organizing tips that you can implement now to get your kitchen and life in order:
Use glass storage jars. Use glass storage jars for baking necessities such as sugar and flour or items such as coffee and tea. The dry ingredients can't fall over and spill like they would in their original packaging and coffee and tea containers are often awkwardly shaped and hard to organize. These glass storage jars help keep everything in order and easy to get to.

Use plastic, lidded bowls to organize drawers. Use plastic, lidded bowls (like the kind you can get at the dollar store), to organize stuff in drawers. This is especially true for drawers used to hold random stuff (a junk drawer as you may call it).

Use a wooden peg rack for storing lids. Lids are a huge clutter nightmare for kitchens and have been for years. Use a wooden peg rack to keep them standing vertically and out of the way.

Magnetic knife strips for the win. Find a magnetic knife strip to attach to your kitchen wall. I have one of these and it is amazing. It keeps them up out of the way and also easy to get to.

Install hooks in your cabinets. Install hooks on the insides of your cabinets (especially under the sink) to store rags, gloves and other cleaning supplies. This is a good way to keep them from cluttering up your cupboards or sink.

Chalkboard to-do list. Use a self-adhesive chalkboard to create a to-do list inside of a cabinet or on an empty wall to create a to-do list. Using a visual board like this is great to keep up on your grocery list and chores. Plus, since your chore list is right in front of you, your kitchen will stay more organized.