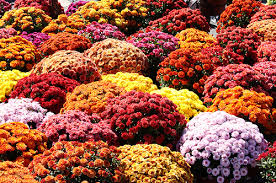 Summer is winding to a close, and it's time for most gardeners to start thinking about replacing the summer blooms with fall flowers in their gardens. If you're on a budget and starting from scratch, though, the idea of planting fall flowers for a garden this year might seem absurd. Fortunately for us frugally minded individuals, there's more than one way to skin a cat—or in this case, plant a garden!
Don't let the outrageous prices on the fall flowers and plants at the stores and nurseries get you down. With a little innovation, you can still plant some fall flowers on a budget. Heck! You might even be able to snag some free fall flowers for your garden!
Start Small
If you have a small budget, you should definitely start small when it comes to your fall garden. This means, don't head out to the nurseries and buy ten of every fall plant you see. Buy just one or two of each plant that you want, but only if your budget allows for it. You can fill in any empty spaces with much, rocks, ornaments, and discount annuals.
Buy Perennials 
Stick to perennial plants for your fall garden for the biggest bang for your buck! These come back year after year, and you can often get more plants from one plant by dividing bulbs, reseeding, or taking cuttings.
Other Gardeners
During the spring and fall, gardeners will typically do a little seasonal maintenance in their garden beds. Sometimes this includes cleaning house and getting rid of old plants they no longer want. If the plants are still in relatively decent shape, you might be able to score some free fall flowers and pants from friends, relatives, and neighbors. Ask around, ad you might find a local garden club, where you can trade plants with other gardeners.
Classified Ads
Online and newspaper classified ads are a great place to find fall flowers and plants on a budget as well. Browse through the garden section of sites like Craigslist and Freecycle for some free or cheap fall plants.
Wilderness
If you live in a somewhat rural area, you may be able to score some free fall flowers and other plants. Collect seeds, take cuttings, or even dig a couple plants for your own garden. Be very careful with this method, however, and make sure that you don't violate any laws. Also, if you choose to dig plants for your own garden, don't be greedy! Only take a small handful of plants and leave several so as not to disturb a delicate ecosystem.
Nurseries
Visit the local nurseries, and I can almost guarantee you that they have a clearance section. Clearance plants and flowers are usually in need of a little TLC, but you can pick them up for a fraction of the cost of healthier plants. If you're looking for fall flowers in the clearance section, keep in mind that these plants may be at the end of their blooming time. You may not be able to enjoy them much longer, so try to pick up perennials that will come back in next year's garden.
What's your favorite source for free or cheap fall flowers?