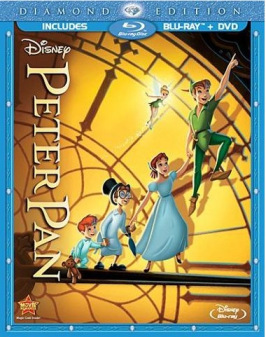 Celebrate the 60th Anniversary of Disney's Peter Pan – for the first time on Blu-ray.  Save $7.00 on your purchase of Disney's Peter Pan Diamond Edition Blu-ray Combo Pack. 
Sign-up for Scott Shared Values.  After you have signed up and answered their questions,  you will receive a special code.
Enter the code on Disney Movie Rewards Magic code section. You will then be directed  to a coupon link where you can print it twice.
Coupon valid in store February 5-8, 2013. Limit two printed coupons per computer. You can also print the coupon for $5.00 off the 3-disc Diamond Edition Pack as well.
Take it to any of these stores for the following deals:
Target Scenario:
Peter Pan 3-Disc Diamond Edition DVD/Blu-Ray/Digital $27.99
Use $7.00 off 3-Disc Diamond Edition coupon or
Use $5.00 off the 3-disc Diamond Edition Pack
Pay as low as $20.99 
**Limit of five of each new release per customer
Best Buy Scenario:
Peter Pan 3-Disc Diamon Edition $27.99
Use $7.00 off 3-Disc Diamond Edition coupon or
Use $5.00 off the 3-disc Diamond Edition Pack
Pay as low as $20.99 
Toys R Us Scenario:
Peter Pan 3-Disc Diamond Edition $27.99
Use $7.00 off 3-Disc Diamond Edition coupon or
Use $5.00 off the 3-disc Diamond Edition Pack
Pay as low as $20.99 

Thanks Freebies2deals