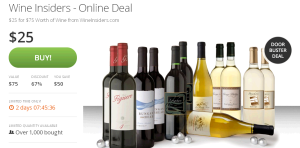 If you know a wine enthusiast (or you're a wine enthusiast), head over to Groupon to take advantage of this deal. For just a couple more days, you can get $25 for $75 Worth of Wine from Wine Insiders
. Single bottle of wine from this company start at just $9.99. It would make an excellent gift or be a great way to stock up the upcoming holiday parties.
Keep in mind, though, that wine can only be shipped to certain states, and you'll have to pay extra for shipping. Make sure you read the fine print before you order:
Expires Apr 30th, 2014. Limit 1/person, 2/gifts. Ships only to AZ, CA, CT, DC, FL, IA, ID, IL, IN, KS, LA, MD, ME, MN, NC, ND, NE, NH, NJ, NM, NV, OH, OR, SC, TN, VA, WI, WV and WY. Valid online only. Voucher is non-transferable. Must be 21+ to order/redeem. Not valid for club memberships. Value cannot be used towards shipping or tax. 

Also, get some ideas for quick holiday appetizers on a budget…