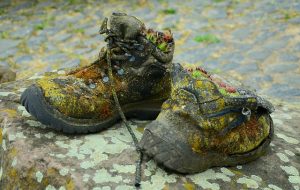 I know that you are trying your best to save money and I know that oftentimes that means shopping thrift stores and consignment shops for clothes, furniture, etc. I love shopping at thrift stores. In fact, you will probably find me shopping thrift stores, much more often than I should, but I figure it's better than being at the mall and spending big money.
That being said, there are some things that you should always buy new and for good reason, whether it is for health reasons or simply to avoid the "ick" factor.
Here are 8 things that you should always buy new:
Underwear. Yep, it needed to be said. Used underwear is just yucky! Besides, you can buy some pretty cheap skivvies if you keep an eye on the clearance and sales racks at basically any store. Many department stores even have undies under $2 on clearance. You just need to know where to look.

Shoes. Shoes are made to form to a person's foot. Does it make sense for you to wear shoes that have been formed to someone else's feet?

Socks. This goes along with undies and shoes of course, but there are just too many foot fungus issues out in this world and I want no part of it.

Swimsuits. Okay, in all honesty, I have bought used swimsuit tops, but it's always best policy to buy your swimsuit bottoms new.

Makeup. Avoid any opened makeup you may find at yard sales, or posted on for sale groups. Makeup can grow bacteria from people's eyes and skin. No one wants pinkeye just for saving a couple bucks.

Hairbrush and/or accessories. Too many chances of lice with this one. Lice can live in hair brushes and hair ties for quite a long time.

Mattresses. Used mattresses can carry bed bugs and more. You may be surprised to learn this, but you can actually buy cheap mattresses online. They may not be the most comfortable mattress ever, but you won't be dealing with a bed bug infestation afterwards.

Non-stick cookware. While I will buy glass cookware and Pyrex, I always say a big NO to buying used non-stick cookware. This stuff is bad for you when scratched and flaking off into your food and that is often the case with used ones.