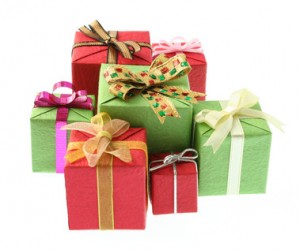 Are co-corkers on your gift list bumming you out? Surely you're not the only one!
It can be difficult to come up with some good co-worker gift ideas for a number of reasons. First, you may not know your co-workers well, so picking out a gift that you're sure they'll enjoy can be tricky. You also probably don't want to spend an arm and a leg on a co-worker gift. Not only can this put a crimp on the rest of your holiday budget, but co-workers might also feel uncomfortable receiving a gift over a certain price point.
Picking out a decent affordable co-worker gift isn't impossible, though. So, if your secret Santa holiday party is coming up at work, never fear! Here are a few affordable co-worker gift ideas…
Coffee Shop Gift Cards
One good co-worker gift idea is a coffee shop gift card, especially if your co-worker loves their coffee! Purchase a gift card in a small denomination to their favorite coffee shop and treat them to a coffee break.
GYO Plants
Grow your own plants, that is. For the coworker with a green thumb, a small packet of seeds and a decorative pot should be enough to bring a smile to their face.
Functional Office Items
Functional gifts are always a good standby when you aren't sure what to pick up for a co-worker gift. Some functional co-worker gift ideas include nice pens, decorative flash drives, portable USB chargers, a pair of touchscreen gloves, and business card holders.
The Gift of Music
Is your co-worker a music lover? Something to help them enjoy their tunes might be just the thing! Bluetooth speakers, iTunes gift cards, and gift cards to a music store are usually good co-worker gift ideas with a musical flair.
Homemade Goodies
Everyone loves tasty goodies, especially around the holidays. If you're stuck trying to come up with a good co-worker gift, you may need to look no further than your own kitchen. Bake up a batch of homemade chocolate chip cookies(or your co-worker's favorite treat) and package them in a festive basket or container. Just make sure you're aware of any food allergies that your co-worker may have.
Do you have any other affordable co-worker gift ideas?