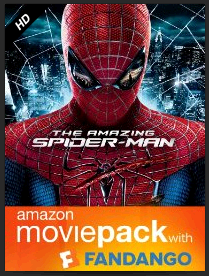 If you have a Spidey fan in your home, you might want to consider this deal on Amazon…
When you buy a digital/HD copy of The Amazing Spider-Man , through Amazon Instant Video for $16.99, you'll also receive a $15 Fandango promo code that you can use to see the new The Amazing Spider-Man 2 movie in theaters! In most locations, that's equal to a free or almost free movie ticket!
The Fandango promo code should be emailed to you within an hour of ordering your movie.