Okay, so I have to brag a little bit this morning… I've needed sheets in our house for longer than I care to admit. I hate buying sheets for some reason! But, I ran across a smokin' Amazon deal this morning that I could not pass up! These Amazon Basics lightweight 200 thread ct sheet sets start at around $5 for Queen sets!
I ended up paying $54.15 for SIX sets of sheets—four queen sheet sets and two full sheet sets. Since I've been hanging onto $55 in Amazon gift cards from Christmas, I actually only ended up paying $2.40. AND, they're all getting shipped for freeeeee….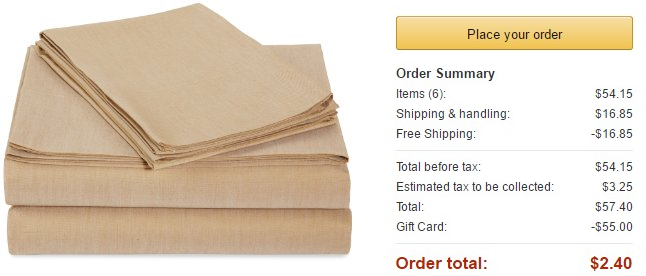 Keep in mind that these are not high end luxury sheets, but they should do their job just fine if you just need some basic sheets. Also, I do want to let you know that the prices on these kept changing on me, even as I was just cycling through the sizes and colors trying to figure out what to buy! So, be sure to check all of the different colors in the sizes you need and act fast if you see a super low price like I did on the $5.47 white queen size sheets!!