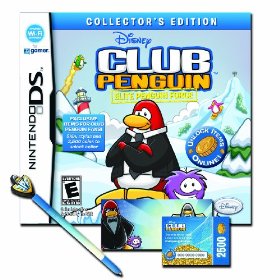 Amazon currently has Club Penguin: Elite Penguin Force Collector's Edition Bundle for $9.98 (reg price $34.98). This includes the game ($34.99 value), penguin stylus, 2500 coin card and Nintendo DS Skin.
Here are a couple more toy deals:
Bye Bye Baby Chou Chou for $25.38 (reg $44.99)  Thanks Mojo Savings!
Hasbro Giraffalaff Limbo $11.88  (Walmart is showing this for $25)
Hasbro Scatterpillar Scramble for $12.50 (we have this one and my two year old is actually pretty good at it even though it's a tricky game)
All of these items ship free with Super Saver shipping when you spend $25 or more in eligible items.  Or free shipping if you signed up for the free trial of Amazon Prime.
How are you coming along with your holiday shopping?  Almost done?  what kind of items are you still looking for?