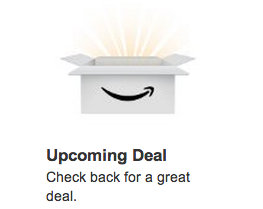 I wanted to give you a big heads up today!  If a new Kindle is on your MUST HAVE Holiday list then you'll want to do what I am and stalk the Amazon Lightning Deals! Sometime today,  Amazon is possibly offering a lightning deal on an all new kindle device!  They are being super secretive so we have no further info right now. 
We currently don't know what or when it will be offered but you can bet it will be great!  Just head over to the Amazon Black Friday Deals  Countdown Event page, you can choose the category for the lightning deal you are interested in.   If I had to venture a guess I would say it's either the new Kindle Fire HD or the Kindle Paperwhite but I guess we'll see.
The first one that looks promising starts at 1pm EST but I can't guarantee it.  Let me know if you see it go live!