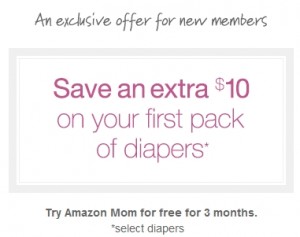 Great news!  If you have been waiting to sign up for the Amazon Mom Program it is open to new members again.  New members will also get a free three month membership to Amazon prime for free.  As a bonus you get $10 off your first pack of eligble diapers!  This offer is exclusive for new members only. 
Amazon Mom is a free membership program aimed at helping parents in the prenatal through toddler years use Amazon to find all the products their family needs.

Despite the name, you don't need to be a mom to belong. Amazon Mom is open to anyone caring for a baby or young child, whether you're a mom, dad, grandparent, or caregiver. We just thought "Amazon Primary Caretaker" didn't have the same ring to it.

As an Amazon Mom you get the following Subscribe & Save discounts:

* 20% Off Diapers
* 20% Off Wipes
* 15% Off Grocery
* 5-15% Off Household Supplies
Amazon Prime members get free two day shipping without any minimum purchase requirement.  You also get access to a selection of free movie and tv show rentals from Amazon Instant Video.
Please note that the free Amazon Prime membership will be set to auto-renew for $79 for one year.  If you are not interested in keeping this service after three months follow these steps:
Under "Your Account"  >> click on "Manage Prime Membership"
Then click on "Do Not Upgrade"
Then click on "Turn-Off Auto Upgrade"