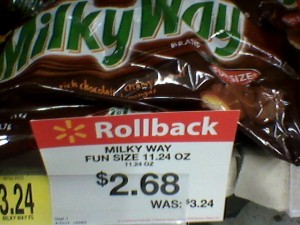 During a last minute Halloween shopping trip  to Walmart, I stumbled on these bags of Milky Way fun sized candy bars on Rollback. They were already only $2.68, down from $3,24. But, there's also a printable coupon out now for $2.00 off three bags of MARS candy bars…which happens to include Milky Way, Twix, and Snickers. All of the ones on Rollback. Yay!
I needed trick-or-treater candy anyway, so I was able to get three bags – one of each – for $2.01 a piece! Yay!
Oh, here's the coupon if you're a last minute shopper like me:
Find more last minute Halloween shopping coupons.