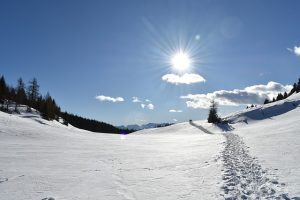 Yes, the holidays are over, but we are still in the heart of winter. We may think of wintertime as being a time of being stuck in the house with crummy weather, but the truth of it is, wintertime is a great time for vacations! Vacation in Winter?! Yes, I said it!
If you think I am crazy for even considering a vacation during the wintertime, you aren't alone. Most people do their vacationing in the Summer so it's a tad uncommon, but it is fun! If you are thinking about it, here are some of the benefits of a winter vacation as opposed to the rest of the year.
Cheaper. With the exception of ski resorts, almost every vacation spot is cheaper during the wintertime. My family lives a couple of hours away from the beach and often vacation there. A beach house that we rent during the Summer for $175 per night, will go for $80 during the winter! That's over half off! The same goes for hotels, etc throughout the country. Because winter isn't typically vacation season, places are trying to get customers through the door and will offer steep discounts to do just that.
Less Crowded. Because it isn't the typical vacation season, there are far fewer people out there! If you aren't the type to enjoy crowds, a winter vacation is perfect for you.
New views. Places look different during different times of the year. Even if you have a favorite Summertime vacation spot, you should go to it during the winter and see it in a different view. There may be snow, there may be fewer leaves on the trees, but either way, it's going to look different.
Avoid Cabin Fever. Let's face it, with the crummy winter weather, we are often stuck inside at home. This can cause some serious cabin fever and nobody likes that! Even a quick weekend vacation will help get rid of wintertime cabin fever.
What's your favorite thing about winter vacations?