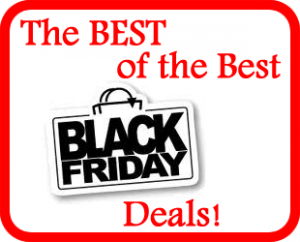 All of the stores have advertised great prices on the Big Ticket items… but are they really the best prices?? I've put together a quick list of the Best of the Best Black Friday Deals for 2017 that stores have advertised. It should give you an idea of what store really does have the best Black Friday price and where you should plan to go to pick it up!
IMPORTANT: If you see an online deal somewhere that has a better price than the BEST Price listed below, GRAB IT!! This will happen a lot. I see online deals comparable to what is advertised in-store for Black Friday all of the time!
FAQ for Black Friday Shopping:
Will the Deals be Available Online as Well?
Unless the ad specifically states in-store only, or available online, we really don't know. But most stores do offer the same deals online. And our good old friend, Amazon, usually matches the same prices as the store ads we see!!
If I Choose to Stay Home, What Time will Online Deals be Starting?
The stores don't usually say. But, sometimes they will announce it on Facebook or their websites before they launch it. Most are usually around the same time as the advertised Black Friday store hours. However, I have seen stores start their online sale earlier too! Last year, ONLINE Black Friday started a whole week early and this year some started at the beginning of November! Crazy!!
I'm so worried I won't be able to get everything on my list for a great price. I'm starting to stress out! It is so overwhelming.
Black Friday can be super stressful. So use the list I made below and compare to your Christmas Shopping List. I will be posting constantly this coming week, so we will find what you need and post it here for you guys. Just check the Freebies2Deals.com website a bunch of times throughout that time period and we will get your shopping done!
Here are the BEST of the Best Black Friday Deals That I have Chosen for 2017:
Xbox One
WalMart: Xbox One S 500 GB Console
— $189
Kohl's: Microsoft Xbox One S 500 GB
— $189.99
**PLUS Get $45 Kohl's Cash
Target: Xbox One S 500 GB
— $189.99
**PLUS Get a $25 Target Gift Card with Purchase
Best Buy: Microsoft Xbox One S 500 GB-White Console
— $189.99
Toys R Us: Xbox One Slim 500 GB Core Console
— $189.99
Kohl's: Microsoft Xbox One S 1 TB Halo Wars 2 Bundle
**PLUS Get $90 Kohl's Cash
Best Buy: Microsoft Xbox One S 500 GB Madden NFL 18 Bundle-$229.99-
— $229.99
**PLUS Get an Xbox Controller FREE with Purchase
WalMart: Xbox One X Console
— $499
Nintendo Switch
Best Buy: Nintendo Switch 32 GB Console Neon Red or Blue Joy Con
— $299.99
WalMart: Nintendo Switch Console with Neon Blue and Neon Red Joy Con
— $299
Target: Nintendo Switch Bundle
— $299.99
PlayStation 4
WalMart: PlayStation 4 1 TB Console
— $199
Kohl's: Sony PlayStation 4 1 TB
— $199.99
**PLUS Get $60 Kohl's Cash
Target: Sony PlayStation 4 1 TB Console with 1 Wireless Controller
— $199.99
Toys R Us: PS4 Slim 1 TB
— $199.99
Best Buy: PlayStation 4 1 TB- Black
— $199.99
Nintendo 2DS
WalMart: Nintendo 2DS with the Legend of Zelda Ocarina of Time Bundle
— $79
Best Buy: Nintendo 2DS with The Legend of Zelda Ocarina of Time 3D
— $79.99
Target: Nintendo 2DS with The Legend of Zelda Ocarina of Time
— $79.99
PlayStation Virtual Reality
WalMart: PlayStation 4 GranTurismo Sport VR Bundle
— $299
Best Buy: Sony Interactive PlayStation VR Gran Turismo Sport Bundle
— $299.99
Nintendo Switch Games
Best Buy: Rayman Legends:Definitive Edition, Dragon Ball, Xenoverse 2, and more!
— $19.99
Best Buy: 1, 2 Switch, Sonic, and more!
— $24.99
WalMart: 1, 2 Switch
— $29
WalMart: Legend of Zelda Special Edition
— $49
Best Buy: Super Mario Odyssey
— $59.99
Best Buy: The Legend of Zelda
— $59.99
Nintendo 3DS Games
Target: Kirby: Planet Robobot, Super SmashBros, Poochy & Yoshi's Woolly World and more!
— $24.99
Assassin's Creed: Origins
WalMart: Assasin's Creed: Origins for Xbox One
— $29
Best Buy: Assassin's Creed: Origins for Xbox One
— $34.99
Call of Duty: WWII
Best Buy: Call of Duty: WWII
— $39.99
WalMart: Call of Duty: WWII
— $43
Target: Call of Duty: WWII for PS4
— $45
Toys R Us: Call of Duty: WWII-

Destiny 2
WalMart: Destiny 2 for PS4
— $29
Best Buy: Destiny 2 for the PS4
— $29.99
Target: Destiny 2 for PS4
— $29.99
Toys R Us: Destiny 2 for PS4-
— Save $30
Madden NFL 18
WalMart: Madden NFL 18 for Xbox One
— $29
Best Buy: Madden NFL 18 for Xbox One
— $29.99
Target: Madden NFL 18 for PS4
— $29.99
Toys R Us: Madden NFL 18 for Xbox One-
— Save $30
NBA 2K18
WalMart: NBA 2K18 for PS4
— $29
Best Buy: NBA 2K18 for PS4
— $29.99
Target: NBA 2K18 for Xbox One
— $29.99
Toys R Us: NBA 2K18-
— Save $30
Other Video Games
WalMart: Left for Dead 2 for Xbox, Fallout 3 for Xbox and more!
— $9
WalMart: Titanfall 2 for Xbox One, Deadpool for PS4, WatchDogs 2 for PS4 and more!
— $12
Best Buy: PS4 Ratchet and Klank for PS4 The Last of Us for PS4 and more!
— $14.99
Target: For Honor Xbox One, WatchDogs 2 for PS4, Resident Evil for PS4 and more!
— $15
WalMart: Just Dance for Wii, Call of Duty: Black Ops for PS4, Ghost Recon for Xbox One and more!
— $19
Best Buy: Ghost Recon for PS4, Uncharted: The Lost Legacy for PS4, Uncharted 4: A Thief's End for PS4, Resident Evil 7 Biohazard for PS4, Horizon Zero Dawn for PS4 and more!
— $19.99
Best Buy: Call of Duty Infinite Warfare for PS4, Crash Bandicoot, and more! $24.99
— $24.99
Target: Ghost Recon for Xbox One, Just Dance 2018 for Wii, Grand Theft Auto V PS4, Call of Duty: Infinite Warfare for PS4 and more!
— $25
WalMart: W2K18 for PS4, Grand Theft Auto V for PS4, Forza 7 for Xbox One and more!
— $29
Best Buy: WWE 2K18 for PS4, Just Dance 2018 for Xbox One, Overwatch and more!
— $29.99
Best Buy: Project Cars 2 for PS4, The Sims 4 for PS4, Forza Motorsport 7 for Xbox One, Southpark The Fractured Whole and more!
— $34.99
Target: NHL 28 for PS4, W2K18 for PS4, Sims 4 for Xbox One and more!
— $35
Toys R Us: Select Games (pictured) 1, 2 Switch, WatchDogs 2, For Honor, OverWatch and more
— Save $30
Toys R Us: All Skylander's Starter Packs-
— 50% off
Toys R Us: Select Games (pictured) Call of Duty for PS4, Cars 3 for PS4, Just Dance 2018 for Wii and more!
— Save $20.00

Toys R Us: All Lego Dimensions, Skylanders Imaginators Sensei's and Adventure Packs-
— 50% off
Toys R Us: Skylander's Figurines (excludes Imaginators) –
— Buy1, Get 3 FREE
Toys R Us: XBox One Controllers and Headsets and PS4 Controllers-
— Save $20.00
WalMart: Nintendo Switch Wired Controller
— $17
Best Buy: Nintendo Switch Game Controllers
— $19.99
WalMart: Turtle Beach Recon 50P Universal Headset
— $25
WalMart: Xbox One Controller
— $39
WalMart: Sony DualShock 4 PlayStation 4 Controller
— $39
Best Buy: Sony DualShock 4 Wireless Controllers-$39.99
— $39.99
Best Buy: Xbox One Controllers
— $39.99
Target: PS4 DualShock Wireless Controllers
— $39.99
Best Buy: Turtle Beach Wired Gaming Headsets
— $39.99
Target: Xbox One Wireless Controllers
— $39.99
Kohl's: Sony PlayStation 4 DualShock
— $39.99
Kohl's: Microsoft Xbox One Wireless Controller
— $39.99
Toys R Us: Lucid Sound LS20 Gaming Headset for Xbox One or PlayStation
— $39.99
Target: Turtle Beach Headsets
— $44.99
Kohl's: Sony Gold Wireless Headset for Sony PS4
— $69.99
**PLUS Get $15 Kohl's Cash
Tablets
WalMart: SmarTab 7″ with IPS panel and dual camera 16 GB Storage
— $28
Best Buy: Amazon Fire 7 7″ Tablet 8 GB 7th Generation 2017 Release
— $29.99
Target: Amazon Fire 7 Tablet 7″ 8 GB
— $29.99
Best Buy: Amazon Fire HD 8 8″ Tablet 16 GB 7th Generation 2017 Release
— $49.99
Sears: Ematic 7″ Quad Core Tablet with 8 GB
— $49.99
Office Depot/Office Max: Samsung Galaxy Tab E LIte 7.0 8 GB Android Operating System
— $69.99
Best Buy: Insignia 10.1″ Tablet –
— $69.99
Target: Amazon Fire HD 10 Tablet
— $99.99
Best Buy: Samsung Galaxy Tab A 8″ 16GB-
— $119.99
WalMart: Samsung Galaxy Tab E 9.6″ Tablet
— $139-
**PLUS Get $25 Google Play Credit
Best Buy: Samsung Galaxy Tab E 9.6″ 16GB-
— $139.99
Target: Samsung Galaxy Tab A 10.1″ Android 16 GB Tablet
— $179.99
**PLUS Get a $20 Target Gift Card with Purchase
WalMart: iPad 5th Generation 32 GB Wi-Fi ONLY
— $249
Best Buy: iPad (9.7 inch)
— $249.99
Target: iPad 32 GB
— $249.99
Best Buy: iPad Mini 4 Wi-Fi 128 GB
— $274.99
Best Buy: Samsung Galaxy Tab S2 9.7″ 32 GB-
— $279.99
Target: iPad Mini 4
— $399.99
Target: iPad Pro 10.5″ PSA
— $529.99
Kids Tablets
Kohl's: American Girl Nabi Tablet
— $39.99
Toys R Us: Nabi Hot Wheels or Barbie Tablets
— $39.99
Toys R Us: Kurio Next Kids Tablet-
— $49.99
Toys R Us: Nabi DreamTab HD8 Tablet
— $59.99
Toys R Us: Nabi Fisher Price 7″ Learning Tablet Ages 4 and up
— $59.99
Target: Amazon Fire 7 Kids Edition 7″ Tablet-
— $69.99
Virtual Reality
WalMart: ONN Mobile VR Headset
— $5
Kohl's: North Virtual Reality Headset
— $9.99
Office Depot/Office Max: Odyssey VR Headset
— $11
Best Buy: ReTrak-
— $14.99
WalMart: Dream Vision Pro VR Headset
— $15
Target: Utopia 360 Pro Series VR with built-in headphones and Bluetooth Controller
— $29.99
Kohl's: Zeiss VR One Plus Virtual Reality Headset
— $49.99
**PLUS Get $15 Kohl's Cash
Best Buy: Oculus-
— $349
Fitness Wristbands
Toys R Us: Garmin Vivofit Jr. Activiy Tracker
— $49.99
Target: Garmin vivofit jr. kids activity watch
— $49.99
Best Buy: Garmin Vivosmart HR Activity Tracker-
— $69.99
WalMart: Fitbit Altra HR or Charge 2 Bundle (bonus band included)
— $99
Kohl's: Fitbit Charge 2 OR Alta HR
— $99.99
**PLUS Get $30 Kohl's Cash
Target: Fitbit Alta HR OR Fitbit Charge 2
— $99.95
Best Buy: Fitbit Charge 2 OR Fitbit Alta HR
— $99.95
Target: Fitbit Blaze Smart Fitness Watch
— $149.95
Best Buy: Fitbit Blaze Smart Fitness Watch-
— $149.95
Best Buy: Samsung Gear Fit2 Pro Fitness Watch-Black
— $149.99
Best Buy: Fitbit Ionic Smartwatch-
— $299.99-
**PLUS Get a $50 Best Buy Gift Card with Purchase
Smartwatches
Kohl's: iTouch Unisex Smart Watch
— $39.99
Best Buy: Garmin HR Smartwatch-
— $119.99
Kohl's: Fitbit Blaze Smartwatch
— $149.99
**PLUS Get $45 Kohl's Cash
Target: Apple Watch Series 1 PSA
— $179.99
Best Buy: Apple Watch Series 1 PSA
— $199
Kohl's: Apple Watch Series 1 Space Gray Aluminum Case with Black band
— $249-
**PLUS Get $75 Kohl's Cash
Best Buy: Garmin Vivoactive 3 Smartwatch-Stainless Steel
— $249.99
Best Buy: Garmin Fenix 3 HR Smartwatch 51 MM Fiber Reinforced Polymer-Gray
— $299.99
Kohl's: Apple Watch Series 3 GPS
— $329
**PLUS Get $90 Kohl's Cash
Target: Apple Watch Series 3 PSA
— $329.99
Best Buy:
— $379.99
TV's
Best Buy: Insignia 22″ LED 1080p HDTV
— $79.99
Target: Polaroid 32″ LED TV
— $89.99
Best Buy: Insignia 32″ Class LED 720p HDTV
— $99.99
WalMart: Element 39″ Class Smart TV
— $125
Best Buy: Sharp 50″ 2160p Smart 4K Ultra HDTV
— $179.99
WalMart: Vizio 43″ 1080p TV
— $198
Target: Westinghouse Smart UHD 55″ 4K Ultrad HD TV
— $249.99
WalMart: Sharp 55″ Class 4K Smart TV
— $298
Kohl's: Haier 55″ 4K Ultra HDTV
— $299.99
**PLUS Get $90 Kohl's Cash
Best Buy: Toshiba 55″ LED 2160 4K HDTV
— $279.99
WalMart: LG 49″ Class 4K Smart TV
— $328
WalMart: Samsung 40″ Class 4K Smart TV
— $328
Best Buy: Samsung 50″ 2160p Smart LED 4K HDTV
— $399.99
Kohl's: Samsung 55 in 4K HD Smart TV
— $499.99
**PLUS Get $150 Kohl's Cash
Target: LG Smart 55″ UHD TV
— $499.99
Kmart: Samsung 55″ Class Smart 4K UHD TV
— $499.99-
**PLUS Get $50 Cashback in Points-
Best Buy: Sharp 60″ LED 2160p Smart 4K Ultra HDTV
— $549.99
WalMart: Samsung 58″ Class 4K Smart TV
— $598
Best Buy: Sony 60″ 2160p 4K Smart 4K LED Ultra HDTV
— $599.99
Target: Samsung 58″ Smart 4K Ultra HDTV
— $649.99
Best Buy: Samsung 65″ 2160p Smart 4K LED Ultra HDTV
— $749.99
Target: Samsung Smart UHD TV 65″ 4K
— $849.99
WalMart: Samsung 65″ Class Curved 4K Smart TV
— $998
Best Buy: Samsung 55″ LED 2160p 4K Ultra HD with HDR Smart HDTV
— $999.99
Best Buy: Sony 70″ LED 2160p Smart 4K HDTV
— $1199.99
Best Buy: Sony 75″ LED 2160p Smart 4K Ultra HDTV
— $1999.99
TV Soundbars
WalMart: RCA 37″ Soundbar with Bluetooth
— $29
Target: Vizio 2 Channel Soundbar
— $49.99
Best Buy: Vizio 3.0 Channel Soundbar with Digital Amplifier-
— $99.99
Target: Samsung 2.1 100W Soundbar
— $109.99
Kohl's: Samsung 2.1 channel Soundbar with wireless subwoofer
— $119.99-
**PLUS Get $30 Kohl's Cash
Kmart: Samsung 200 watt 2.1 channel Soudbar with wireless subwoofer
— $119.99
**PLUS Get $20 Cashback in Points-
Best Buy: LG 2.1 Channel Soundbar with wireless subwoofer and digital amplifier-
— $119.99
Best Buy: Samsung 2.1 Channel Soundbar System with 6.5″ Subwoofer-
— $139.99
WalMart: Vizio 32″ 5.1 Soundbar with Wireless Subwoofer
— $139
Best Buy: Sony 2.1 Channel Soundbar with 4.72″ Wireless Subwoofer
— $199.99
Best Buy: Omni 3.1 Channel Wireless Multi Room Soundbar with subwoofer-
— $349.98
Blu-ray Players
WalMart: Sanyo Blu-ray Disc Player
— $39
Best Buy: Samsung BD-J5700/ZA Streaming Wi-Fi Built -In Blu-Ray Player-
— $47.99
Target: Sony Wi-Fi Blu-ray Player
— $49.99
WalMart: LG 4K Blu-ray Disc Player
— $99
Best Buy: LG UP875 Ultra 4K HD 3d Blu-Ray Player-
— $99.99
Kohl's: Samsung 4K Blu-ray player
— $129.99
**PLUS Get $30 Kohl's Cash
Best Buy: Samsung UBP M7500 Streaming 4K Ultra HD Wired Blu-Ray Player
— $127.99
Best Buy: Sony UBP X800 Streaming 4K Ultra HD 3D Hi Res Audio Wi-Fi Built in Blu-ray Player
— $149.99
Best Buy: LG 4K HD 3D Wi-Fi Built In Blu-Ray Player-
— $149.99
Blu-Ray DVD's/4K DVD's/DVD's
Toys R Us: Select DVD's and Blu-rays (pictured) Sing DVD, Lego Batman Movie, Trolls, Wonder Woman and more!-
—Buy 1, Get 1 FREE
WalMart: Divergent DVD, BridesMaids DVD, Sing DVD, Lone Survivor DVD, Angry Birds Movie DVD and more!
— $1.96
Best Buy: The Sandlot DVD, Bad Santa DVD, The Princess Pride DVD, Oblivion DVD and more!
— $1.99
WalMart: Lego Batman Movie DVD, Deadpool DVD, Trolls DVD, Fantastic Beasts and Where to Find Them DVD and more!
— $3.96
Best Buy: Batman v Superman: Dawn of Justice Blu-Ray, John Wick Blu-Ray, Sing DVD and more!
— $3.99
Target: Storks Blu-Ray, Pitch Perfect DVD, Creed Blu-Ray, DeadPool DVD, Home Blu-Ray and more!
— $4
WalMart: Wonder Woman DVD, Cars 3 DVD, Transformers DVD, and more!
— $5
WalMart: Trolls Blu-ray, Deadpool Blu-ray, Kong Blu-ray and more!
— $5.96
Best Buy: Kong: Skull Island Blu-Ray DVD, The House Blu-Ray/DVD, The Emjoi Movie Blu-Ray and more
— $5.99
Target: The Lego Batman Movie Blu-ray/DVD/Digital, Minions 3D Blu-ray, DVD, The Secret Life of Pets Blu-ray/DVD/Digital, Fifty Shades Darker DVD, Suicide Squad Blu-ray/DVD/Digital, Trolls Blu-ray/DVD/Digital and more!
— $6
Best Buy: Wonder Woman Blu-Ray/DVD, Baby Drive Blu-Ray, The Lego Batman Movie Blu-Ray and more!
— $6.99
WalMart: John Wick 2 DVD, Emoji Movie DVD, Baby Boss DVD and more
— $7.96
Best Buy: Moana Blu-ray/DVD/Digital Copy, Spider-Man: Homecoming, Guardians of the Galaxy Vol.2 Blu-ray/DVD and more!
— $7.99
Kmart: Emoji Movie DVD, Boss Baby DVD, Spiderman Homecoming DVD and more!
— $7.99
Best Buy: Alien: Covenant Blu-Ray, Logan Blu-Ray/DVD, The Big Bang Theory: The 10th Season and more!
— $8.99
Target: Wonder Woman Blu-ray/DVD, Spider-Man Homecoming Blu-ray/DVD, Kong: Skull Island Blu-ray/DVD/Digital and more!
— $9
WalMart: The Big Bang Theory Season DVD, Walking Dead Season 7 DVD, Mulan DVD, and more!
— $9.96
WalMart: Logan Blu-ray, Emoji Movie Blu-ray, Guardians of the Galaxy Vol.2 Blu-ray, and more!
— $9.96
Best Buy: (TV's Series DVD's) The Walking Dead: Season 7, The Flash, The 3rd Season, Supernatural, The 12th Season, and more!
— $9.99
Best Buy: Wonder Woman 4K DVD, The Fate of the Furios 4K DVD, Transformers: The Last Knight 4K DVD and more!
— $9.99
Target: Cars 3 Blu-ray, Stranger Things Season 1, The Flash Complete Season, The Arrow Season 5, Bones Season 12, and more!
— $10
Best Buy: Beauty and the Beast DVD, The Lion King DVD and more!
— $12.99
Best Buy: Guardians of the Galaxy Vol. 2 4K DVD, Pirates of the Caribbean: Dead Men Tell No Tales 4K DVD, John Wick Chapter 2 4K DVD, Spider-Man Homecoming 4K DVD and more!
— $14.99
Target: Guardians of the Galaxy Vol 2. DVD, The Lion King DVD, Beauty and the Beast DVD and more!
— $15
TV Media Streaming Devices
Best Buy: Google Chromecast-
— $19.99
WalMart: Google Chromecast
— $20
**PLUS Get a $5 Vudu credit with Purchase
WalMart: Roku Express+HD Streaming Media
— $22-
**PLUS 1 Month FREE Direct TV, Showtime, $5 Vudu Credit and HDMI Cable
Best Buy: Amazon Fire TV Stick with Alexa Voice Remote-
— $24.99
Target: Amazon Fire TV Stick
— $24.99
Target: Google Chromecast
— $25
Office Depot/Office Max: Google Chromecast HDMI Streaming Media Player
— $25
WalMart: Roku 4K Streaming Stick
— $48-
**PLUS 1 Month FREE Direct TV, Showtime, $5 Vudu Credit and HDMI Cable
Best Buy: Roku Premiere + Streaming Media Player-
— $49.99
Best Buy: Google Chromecast Ultra-Black
— $54
Best Buy: Nvidia Shield TV 16 GB Streaming Media Player with Controller-
— $169.99
Best Buy: Apple TV 4K –
— $179.99
Laptops
Best Buy: Samsung 11.6″ Chromebook 2GB Memory
— $99
WalMart: RCA Windows 2 in 1 Laptop/Tablet 10.1″, 32 GB Storage, 2 GB Memory
— $99
Best Buy: Lenovo-
— $99.99
WalMart: Samsung Chromebook 3 11.6″ 16 GB Storage, 4 GB Memory
— $119
Best Buy: Samsung 11.6″ Chromebook 4GB Memory
— $119
Office Depot/Office Max: HP 14″ Laptop with Intel Inside. 32 GB Internal Memory, 4 GB Memory
— $167.99
WalMart: HP Stream Laptop 14″ 12 GB storage, 4 GB Memory
— $179
WalMart: HP Touch Chromebook 11.6″, 16 GB Storage, 4 GB Memory
— $179
Best Buy: Acer R 11 2 in 1 11.6″ Touch Screen Chromebook-
— $179
Office Depot/Office Max: NuVision Kidstand 11 Draw Wi-Fi Tablet with Keyboard-
— $199.99
Target: HP 11.6″ Convertible Chromebook with Coming Gorilla Glass, Touch Screen, Spill Resistant keyboard, 16 GB Storage and External Memory Card Slot
— $219
WalMart: HP Touch 15.6″ Laptop with 50 GB Storage and 4 GB Memory
— $249
Office Depot/Office Max: Dell Inspirion 11.6″ 2 in 1 Laptop 4 GB Memory, 500 GB Hard Drive
— $249.99
Best Buy: Lenovo 15.6″ Laptop AMD A12 Series-
— $279.99
Office Depot/Office Max: HP 15.6 Laptop with i3 Processor, 1 TB Hard Drive, 4 GB Memory
— $309.99
Office Depot/Office Max: HP 15.6″ Laptop with 8th Generation Intel Core i5 Processor, 1 TB Hard Drive
— $349.99
Best Buy: Inspiron 15.6″ Touch Screen Laptop with Intel Core i5 8GB Memory-
— $359.99
Best Buy: HP 17.3″ Laptop-
— $379.99
WalMart: HP Touch 15.6″ Laptop with AMD processor, 1 TB Storage, 8 GB Memory with mouse and backback
— $399
Best Buy: HP 14″ Touch Screen Laptop Intel Core i3 8 GB Memory
— $399.99
Office Depot/Office Max: HP 15.6″ Laptop with 8th Generation Intel Core i7 Processor, 1 TB Hard Drive
— $449.99
Office Depot/Office Max: Lenovo Flex 5 15.6″ 2 in 1 Laptop with i5 Processor, 1 TB Hard Drive, 8 GB Memory
— $529.99
Best Buy: Microsoft Surface Pro Core M with Black Type Cover Platinum
— $629
Office Depot/Office Max: Dell 15.6″ Gaming Laptop with Intel Core i5 Processor, 8 GB Memory, 1 TB Storage-
— $629.99
Best Buy: Apple MacBook Air 13.3″ Intel Core i5 8 GB Memory-
— $799.99
Best Buy: HP 2 in 1 13.3″ Touch Screen (Built for Windows Ink) Laptop Intel Core i7 8 GB
— $949.99
Best Buy: Apple MacBook Air (Latest Model) 13.3″ Display Intel Core i5 8 GB Memory, 256 GB Storage
— $999.99
Computers
Office Depot/Office Max: HP Slim Desktop with AMD A9 Processor, 8 GB Memory, 1 TB Hard Drive
— $279.99
Office Depot/Office Max: HP 21.5″ All-In-One Desktop with AMD A6 Processor, 1 TB Hard Drive, 4 GB Memory
— $349.99
Office Depot/Office Max: Dell Inspiron 3452 23.8″ FHD All-In-One, 8 GB Memory, 1 TB Hard Drive
— $419.99
WalMart: HP Pavilion Power Desktop, VR Ready, 1 TB Storage, 8 GB Memory
— $499
Best Buy: HP 23.8″ Touch Screen All-In-One Intel Core i3 8 GB Memory-
— $499.99
Best Buy: HP Slimline Desktop-

Office Depot/Office Max: Dell Inspiron 5675 Gaming Desktop with AMD Ryzen Processor 8 GB Memory, 1 TB Hard Drive
— $649.99
Best Buy: HP Pavillion 23.8″ Touch Screen All-In-One Intel Core i5 12 GB Memory
— $699.99
Best Buy: Apple 21.5″ iMac Intel Core i5 8 GB Memory
— $899.99
Best Buy: iBuyPower Desktop Intel Core i7 16 GB Memory
— $1299.99
Hard Drives
WalMart: Seagate 1 TB Hard Drive
— $45
Office Depot/Office Max: WD Elements 2 TB External Hard Drive with 16 GB USB Flash Drive Bundle
— $69.99
Best Buy: WD Easystore 4TB External USB 3.0 Portable Hard Drive-
— $79.99
Office Depot/Office Max: WD My Passport 4TB Portable External Hard Drive
— $99.99
Best Buy: WD Easystore 8 TB External USB 3.0 Hard Drive-
— $129.99
Office Depot/Office Max: WD My Passport Wireless Pro USB 3.0 Hard Drive 2 TB
— $149.99
Printers
Office Depot/Office Max: Canon Pixma MG3620 Inkjet Printer
— $9.99 AFTER $30 Bonus Back in Rewards for members
Best Buy: HP DeskJet 2624 Wireless All-In-One Instant Ink Ready Printer
— $19.99
Kohl's: HP DeskJet 3634 All-In-One Printer with Wi-Fi Connectivity
— $29.99
Best Buy: HP DeskJet 3637 Wireless All-In-One Printer
— $29.99
WalMart: Canon Pixma MS490 Wireless All-In-One Printer
— $34
Office Depot/Office Max: HP OfficeJet Pro 3833 Wireless Print, Copy, Scan & Fax
— $39.99
Best Buy: HP OfficeJet 4650 Wireless All-In-One Instant Ink Ready Printer
— $46.99
WalMart: HP 5542 Photo Printer
— $49
Office Depot/Office Max: Brother Color Inkjet MFC J4800dw Wireless All-In-One Printer
— $49.99
Office Depot/Office Max: HP OfficeJet 4650 Printer OR Canon Pixma MX 492 Printer
— $49.99
Office Depot/Office Max: Brother Mono Laser HL-L2320d Printer
— $49.99
Best Buy: Canon PIXMA TS9020 Wireless All-In-One Printer White/Black
— $69.99
Office Depot/Office Max: Canon Pixma MX922 Printer
— $69.99
Best Buy: HP Envy 7643 Wireless All-In-One Instant Ink Ready Printer
— $76.99
Office Depot/Office Max: Epson Expression XP 830 Wireless All-In-One Printer
— $79.99
Best Buy: HP OfficeJet Pro6978 Wireless All-In-One Instant Ink Ready Printer
— $86.99
Office Depot/Office Max: HP Office JetPro 6978 Printer
— $89.99
Office Depot/Office Max: Canon image Class Laser MF244dw Printer
— $99.99
Office Depot/Office Max: HP Laser Jet Pro MFP M227fdw Printer
— $164.99
Office Depot/Office Max: Canon imageCLASS MF731Cdw All-In-ONe Printer
— $249.99
Best Buy: Canon Color imageCLASS MF733Cdw Wireless Color All-In-One Printer
— $279.99
DSLR Camera
Kohl's: Canon EOS Rebel T6 DSLR Camera with Wi-Fi, 10-55 and 75-300 mm lens
— $449.99
**PLUS Get $135 Kohl's Cash
Best Buy: Canon EOS Rebel T6 DSLR Cmaera with EFS 18-55 mm IS II and EF 75-300 mm III lens
— $449.99
**PLUS Get a 32 GB Memory Card and Bag with Purchase
Target: Canon Rebel T6 DSLR Bundle with 10-55 mm and 75-300 mm lens, bag and 16 GB SD Card
— $449.99
Best Buy: Nikon D3400 DSLR Camera with AF-P DX 18-55 mm GVR and 70-300 mm G ED Lenses
— $499.99-
**PLUS Get a 32 GB Memory Card and Bag with Purchase
Best Buy: Sony Alpha a6000 Mirrorless Camera with 16-50mm and 55-210 mm lenses
— $699.99
**PLUS Get a 32 GB Memory Card and Bag with Purchase
Best Buy: Nikon D7200 DSLR Camera with 18-55 mm and 70-300 mm Lenses-
— $999.99
**PLUS Get a 32 GB Memory Card and Bag with Purchase
Best Buy: Canon EOS 80D DSLR Camera with 18-135 mm IS USM Lens-
— $1299.99
**PLUS Get a 32 GB Memory Card with Purchase
Point & Shoot Cameras
Best Buy: Fujifilm Instax Mini 9 Instant Film Camera-
— $49.99-
**PLUS Get Free Film with Purchase
WalMart: Fujifilm Instax Mini 7S Camera bundle
— $55
Target: Fujifilm Instax Mini 9 Camera Bundle with 10 ct Rainbow Film
— $59.99
Office Depot/Office Max: Fujifilm Instax mini 9 camera
— $59.99
Kohl's: Fujifilm Instax Mini 9 Instant Camera with Bonus 20 pack film
— $69.99-
**PLUS Get $15 Kohl's Cash
Best Buy: Fujifilm Minion Mini 8 Instant Film Camera
— $69.99
**PLUS Get Free Film with Purchase
Best Buy: Fujifilm Instax Mini 9 Instant Film Camera Bundle-
— $74.99
Best Buy: Canon PowerShot ELPH 180 20.0 MP Digital Camera-
— $99.99
**PLUS Get 32 GB Memory Card Free with Purchase
Best Buy: Canon PowerShot SX530 16.0 MP HS Digital Camera-
— $229.99
**PLUS Get a 32 GB Memory Card and Bag with Purchase
Video Recorders
Kohl's: Vivitar HD 5 MP action camera with 1.8 in preview screen
— $29.99
Best Buy: Canon VIXIA HF R800 HD Flash Memory Camcorder-
— $169.99
Target: GoPro Hero5 Session Bundle with Head Strap and 16GB SD Card
— $249.99
Best Buy: GoPro Hero5 Session 4K Action Camera-
— $249.99
Target: GoPRo Hero5 Black 4K Camera
— $349.99-
**PLUS Get a $50 Target Gift Card with Purchase
Best Buy: GoPro Hero5 Black 4K Action Camera with Remote-
— $349.99-
**PLUS Get a $50 Best Buy Gift Card with Purchase
Electronic Smart Personal Home Assistants
Target: Google Home Mini
— $29
**PLUS Get a $10 Target Gift Card with Purchase
WalMart: Google Home Mini
— $29-
**PLUS up to $25 Shopping Offer when you link your Google Mini account to Google Express
Target: Amazon Echo Dot
— $29.99
Best Buy: Google Home Mini-Chalk
— $29.99-
**PLUS, Get $10 Best Buy Gift Card with Purchase
Kohl's: Amazon Echo Dot
— $29.99
Best Buy: Amazon Echo Dot (2nd Generation)-Black
— $29.99
Sears: iLive Wireless Speaker with Amazon Alexa
— $39.99
Office Depot/Office Max: iLive Alexa Voice Bluetooth Speaker
— $39.99
Office Depot/Office Max: Google Home Speaker
— $79
Target: Google Home
— $79
WalMart: Google Home
— $79-
**PLUS $25 Google Shopping Offer
Best Buy: Amazon Echo (2nd Generation) Charcoal Fabric
— $79.99
Target: Amazon Echo (2nd Generation)
— $79.99
Kohl's: Google Home Voice Activated Speaker
— $79.99
**PLUS Get $15 Kohl's Cash
Best Buy: Google Home-
— $79.99
Best Buy: Amazon Echo Show-
— $179.99
Target: Amazon Echo Show
— $179.99
Nest/Ring Products
Best Buy: Ring Video Doorbell
— $99.99
Kohl's: Nest Cam Indoor Security Camera
— $149.99
**PLUS Get $45 Kohl's Cash
Kohl's: Nest Cam Outdoor Security Camera
— $169.99
**PLUS Get $45 Kohl's Cash
Kohl's: Nest Learning Thermostat
— $199.99
**PLUS Get $60 Kohl's Cash
Office Depot/Office Max: Nest Learning Thermostat
— $199
Target: Nest Learning Thermostat 3rd Generation
— $199
Best Buy: Nest Learning Thermostat
— $199.99
Best Buy: Ring Floodlight Cam-
— $224.99
Wireless and Waterproof Speakers
Best Buy: Insignia Portable Wireless Speaker
— $9.99
Office Depot/Office Max: Bytech Waterproof Speaker
— $12
Kohl's: JAM Replay portable Bluetooth Speaker
— $14.99
Best Buy: JAM Rave Plus Portable Bluetooth Speaker
— $17.99
WalMart: JBL Clip2 Ultra Bluetooth Speaker
— $30
Kohl's: Altec Lansing Mini Life Jacket 3 Portable Rugged Bluetooth Speaker
— $49.99
Best Buy: Sony XB20 Portable Bluetooth Speaker
— $49.99
WalMart: JBL Flip 3 Portable Bluetooth Speaker
— $55
WalMart: ION Game Day Bluetooth Speaker
— $69
Target: Ultimate Ears Wonderboom 360 Wireless Bluetooth Speaker
— $69.99
Kohl's: iHome Double Sided Vanity Mirror Bluetooth Speaker
— $69.99
**PLUS Get $15 Kohl's Cash
Best Buy: Ultimate Ears-
— $79.99
Best Buy: Altex Lansing Boom Jacket 2 Speakers
— $79.99
Kohl's: JBL Charge 3 Splashproof portable Bluetooth Speaker
— $89.99
**PLUS Get $15 Kohl's Cash
Target: JBL Charge 3 Bluetooth Speakers with 20 hr Battery life
— $89.99
Kohl's: UE Boom 2 Waterproof Bluetooth Speaker-
— $99.99-
**PLUS Get $30 Kohl's Cash
Best Buy: Insignia Voice Smart Portable Bluetooth Speaker with Google Assistant
— $99.99
Best Buy: Sonos PLAY 1 Wireless Speaker for Streaming Music-
— $149.99
Best Buy: JBL Xtreme Portable Bluetooth Speaker
— $149.99
Best Buy: Harman/Kardon Onyx Studio 4 Portable Bluetooth Speaker-
— $149.99
Best Buy: Sonos PLAY 3 Wireless Speaker for Streaming Music
— $249.98
Beats/Monster/Samsung/Wireless Headphones
Office Depot/Office Max: Bytech Bluetooth Earbuds or Headphones
— $8
WalMart: Skullcandy Job Bluetooth Earbuds
— $15
Best Buy: Impulse Wireless In-Ear Headphones
— $19.99
Kmart: Skullcandy Uproar Bluetooth On-Ear Headphones-
— $24.99
**PLUS Get $5 Cashback in Points-
Kohl's: Skullcandy Ink'd Wireless Bluetooth earbuds
— $24.99
Target: All Skullcandy Ink'd Wireless Headphones
— $24.99
Sears: Skullcandy Bluetooth Uproar On-Ear Headphones-
— $24.99
WalMart: Skullcandy Ink'd In-Ear Headphones
— $25
WalMart: Skullcandy Uproar Bluetooth On-Ear Headphones
— $25
Best Buy: XB50BS Extra Bass Sports Wireless In-Ear Headphones-
— $39.99
Best Buy: Skullcandy Hesh 2 Unleashed Wireless Over the Ear Headphones-
— $49.99
Best Buy: Jaybird-
— $49.99
Best Buy: JLab Audio Epic Air True Wireless Earbud Headphones-
— $99.99
Best Buy: Skullcandy Crusher Wireless Over the Ear Headphones
— $99.99
Best Buy: Beats Wireless Headphones PSA
— $99.99
Best Buy: Sony XB950B1 Extra Bass Wireless Over-The-Ear Headphones-
— $99.99
Best Buy: Sony XB950N1 Extra Bass Wireless Noise Canceling Headphones-
— $124.99
Best Buy- Jabra Elite Sport True Wireless Earbud Headphones
— $149.99
Target: Powerbeats Wireless earphones
— $159.99-
**PLUS Get a $20 Target Gift Card with Purchase
Target: Beats Studio Wireless headphones
— $159.99
Best Buy: Beats by Dr. Dre Studio 2 Wireless Over the Ear Headphones-
— $159.99
Best Buy: Bose Quiet Comfort Acoustic Noise Cancelling Headphones
— $179.99
Target: Beats Solo Wireless Headphones
— $239.99-
**PLUS Get a $30 Target Gift Card with Purchase
Headphones
Office Depot/Office Max: Bytech Wired Earbuds
— $2
Sears: JVC Gumy Plus and Riptidz In-Ear Headphones
— $4.99
Kohl's: Character Headphones
— $12.99
Best Buy: Skullcandy Method Wireless In-Ear Headphones
— $29.99
Target: urBeats Earbuds
— $49.99
Best Buy: Bose SoundSport In-Ear Headphones-Energy Green
— $49.99
Best Buy: Bose SoundTrue Ultra In-Ear Headphones iOS Charcoal
— $79.99
Portable DVD Players
WalMart: RCA 10″ Dual Screen Portable DVD Player
— $59
GPS's
Kohl's: Garmin Drive 50LM GPS Navigator
— $89.99
**PLUS Get $15 Kohl's Cash
Best Buy: Garmin Drive 51 LM 5′" GPS –
— $89.99
Best Buy: Garmin DriveSmart 61 LMT-S 6.95″ GPS
— $189.99
iTunes Cards
Kohl's: $30 iTune's Gift Card
— $25
Target: iTunes Gift Cards
— Buy 1, Get 1 at 30% off
Drones
Best Buy: Protocol Slipstream S Stunt Drone-Silver/Black
— $19.99
Toys R Us: Air Hogs Helix Race Drone
— $19.99
Target: Sky Viper Stunt Drone
— $29.99
WalMart: Sharper Image Streaming Drone
— $40
Toys R Us: Lunar Drone with 10″ HD Camera
— $47.99
Kohl's: Propel Sky Rider HD 2.4 GHz Quadcopter with HD camera
— $49.99
**PLUS Get $15 Kohl's Cash
Sears: SwiftStream Z-34CV Drone
— $49.99
Kohl's: Sky Drone HD Pro X1 VR Streaming Drone with battery and VR Goggles
— $69.99
Kohl's: Sharper Image 14.4 in Streaming Drone with VR
— $79.99
**PLUS Get $15 Kohl's Cash
WalMart: ProMark P70 GPS Drone with GPS
— $99
Toys R Us: Sky Viper v2900PRO Remote Control Streaming Video Drone
— $149.99
WalMart: Yuneec Breeze Drone with with 4K Camera and bluetooth camera
— $199
Kohl's: DJI Spark Mini Quadcopter Drone with 1080p camera
— $399.99
**PLUS Get $120 Kohl's Cash
Best Buy: DJI Spark Quadcopter-
— $399.99
Target: DJI Spark Mini Drone
— $399
Hoverboards
WalMart: Hoverboard
— $148.00
Target: Jetson V12 All Terrain Hoverboard with Bluetooth speakers
— $199
Toys R Us: Hover 1 Hoverboard & Buggy Combo
— $199.99
Kohl's: Jetson Z4 Hoverboard with Bluetooth and Jetson Ride Ready App
— $219.99-
**PLUS Get $60 Kohl's Cash
Kohl's: Hboard 2.0 Hoverboard
— $249.99
**PLUS Get $75 Kohl's Cash
Power Wheels
WalMart: 6V 3 Wheel Character Cycle
— $29
Toys R Us: 6V HOnda TRX All Terrain Ride-On-Black or Pink
— $39.99
Target: Electric Ride-Ons 6V BMW Motorcycle or Kids Trax Custom Coupe
— $85
Kohl's: Fisher-Price Power Wheels Cars 3 Lightning McQueen
— $89.99-
**PLUS Get $15 Kohl's Cash
WalMart: Lightning McQueen or Minnie Mouse 6V Drive-On
— $98
Toys R Us: 6V Avido BMX XS Ride-On -Black
— $99.99
Toys R Us: 6V Avigo Audi R8 GT Spyder-White or Gray
— $124.99
WalMart: Frozen Sleigh 12 V Ride-On
— $198
WalMart: 24 V Electric Quad
— $198
Toys R Us: 12 V Disney HOt Rod Coupe or Minnie or Mickey Mouse Coupe
— $199.99
Toys R Us: 24V Razor MX350 Dirt Rocket
— $224.99
Toys Ru Us- Power Wheels 12 V Boomerang Ride-On
— $249.99
WalMart: John Deere Gator 12 V Ride-On
— $298
Electronic Scooters
WalMart: 12 V Electric Scooter
— $49
Target: Razor Power Core E95 Electric Motor Scooter
— $85
Kohl's: Razor Power Core E90 Electronic Scooter
— $99.99
**PLUS Get $30 Kohl's Cash
Target: Jetson Beam Electronic Scooter with radiant lights
— $199
Trampolines
Kmart: Jump 'N Trampoline with Enclosure 12′
— $149.99
**PLUS Get a Jump N' Jam Basketball Kit FREE with Purchase
Toys R Us: Skywalker 15′ Round Trampoline wiht Enclosure
— $199.99
Christmas Trees
Kmart: 6′ Penisula Pine Tree
— $15
Target: Wondershop 6 ft Alberta Spruce
— $29.99
Sears: 7′ Alpine Balsam Fir Tree
— $39.99
Kmart: 6′ pre-decorated American Pine Tree
— $49.99
WalMart: Norwich 7.5′ Pre-Lit LED Tree
— $68
Kohl's: Pre-lit Slim 7ft Tree
— $79.99
**PLUS Get $15 Kohl's Cash