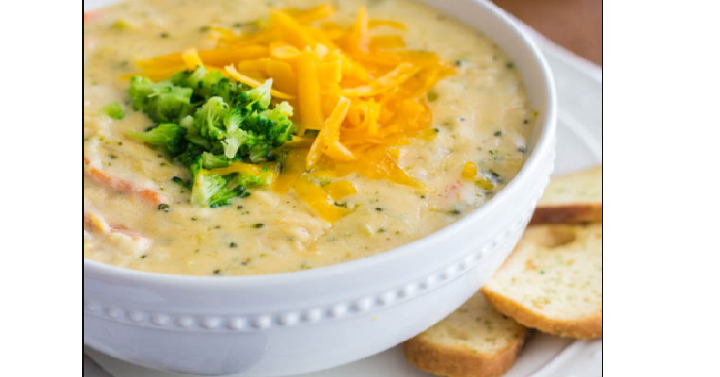 When it's cold outside all I want to do is eat soup! Seriously, I'm always looking for new soups to eat. It's always a fine line to find a soup that not only I love, but my husband and kids love as well. When I made this Panera Bread copycat of their Broccoli Cheese Soup, we all loved it! My kids didn't even complain of the "green stuff!" It's definitely a keeper and one we will do over and over again during the winter months. This recipe comes from The Recipe Critic and I love it. Here is what you do:
**Note- when I made this, it BARELY fed 5 of us- and 3 of those are small kids! So I usually double the recipe now. **
INGREDIENTS
1 tablespoon melted butter
½ medium chopped onion
¼ cup melted butter
¼ cup flour
2 cups half-and-half cream
2 cups chicken stock
½ lb fresh broccoli (about 1 cup)
1 cup carrot, julienned
¼ teaspoon nutmeg
8 ounces grated sharp cheddar cheese
salt and pepper to taste
INSTRUCTIONS
Saute the onion in 1 tablespoon melted butter and set aside. In a large pot whisk together the melted butter and flour over medium heat for about 3-4 minutes.
Slowly whisk in the half and half and chicken stock. Let it simmer for about 20 minutes.
Add the broccoli, carrots, and onions. Let them simmer on medium low for about 25 minutes until the broccoli and carrots are tender.
Add nutmeg, salt and pepper and sharp cheddar cheese. Let the cheese melt and then serve. For a smoother soup puree it in a blender.