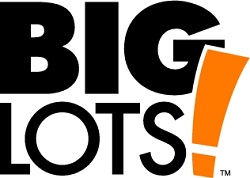 Here are this week's matchups and weekly deals from Big Lots!  This list has every single deal in the weekly ad, but if you want to see the BEST Big Lots Weekly Deals, look for the * YELLOW STARS *.
****Not sure how to use these Lists?  Read my FAQ section over here and make sure you set up your FREE Favado account and download the app so you can take your grocery list with you on your phone when you head to the store!
Planning to shop somewhere else this week?  Check out all of the matchups and weekly deals from your favorite stores HERE, or search all of the available coupon matchups for specific products or brands.
Baby Food & Care
Bloved Baby Wipes – $1.50 – Starting at $1.50
Selected Varieties
Bloved Premium Diapers, 40 – 52 ct – $8.00
bloved Baby Products – $1.50 – Starting at $1.50
Selected Varieties
Beverages
Pepsi Products, 6 pk 16 oz bottles – $2.50
Limit 8
Purified Water, 24 pk – $2.00
AriZona Teas, 23 oz – $0.75
Campbell's V8 Splash, 64 oz – $1.88
Coconut Water 33.8 oz – $1.50
Kool-Aid Jammers, 10 ct – $1.88
Ruby Kist 100% Apple Juice, 64 oz – $1.88
Single Serve Brew Cups, 80 Count – $25.00
Breakfast & Cereal
Country Kitchen Syrup, 36 oz – $2.50
Erin Baker's Granola, 12 oz – $2.50
General Mills Cereal, 11.5 – 13 oz – $2.50
Lucky Leaf Apple Butter, 28 oz – $2.50
Quaker Old Fashioned Oats, 42 oz – $4.00
ature's Path Granola Bars, 5 ct – $2.50
Canned Goods & Soups
Ro-Tel Canned Tomatoes, 10 oz – $1.00
Condiments, Spice & Baking
100% Pure Honey, 16 oz – $4.00
Jif Peanut Butter, 40 oz – $4.00
PB2 Powdered Peanut Butter, 6.5 oz – $4.00
Pillsbury Classic Fudge Brownie Mix – $1.00
Welch's Squeeze Grape Jelly, 20 oz – $1.95
Cookies, Snacks & Candy
Frito-Lay Doritos Tortilla Chips – $2.50
Selected Varieties
Frito-Lay Lay's Chips – $2.50
Limit 8Selected Varieties
Dried Fruit – $1.50 – Starting at $1.50
Selected Varieties
Fresh FindsTM Snacks – $1.90
Selected Varieties
Ghirardelli Chocolate Filled Squares – $4.00
Selected Varieties
Hostess Cakes Multi-Pack Boxes – $2.50
Hostess Donettes, bag – $1.75
Hostess Single Packs – $0.75
Lance Crackers, 6 pk – $1.00
Snack Pack Pudding, 4 ct – $1.00
Trail Mix & Nuts – $1.50 – Starting at $1.50
Selected Varieties
Welch's Fruit Snacks, 10 ct – $1.95
Grains, Pasta & Sides
Idahoan Homestyle Mashed Potatoes – $1.00
Mac & Cheese Cups – $1.00
Selected Varieties
Home Supplies
Arm & Hammer Laundry Detergent, 210 oz – $10.00
Big Lots Premium Bath Tissue, 24 roll – $8.88
3M Command Hooks – $3.00 – Starting at $3.00
Selected Varieties
Air Wick Air Fresheners – $1.00
Big Lots Designer Bowls, 24 ct – $2.50
Big Lots Designer Paper Plates, 45 – 48 ct – $2.50
Energizer Max Batteries, 4 pk AA or AAA, 2 pk. C or D, 1 pk 9 volt – $3.50
Hefty Trash Bags, 56 – 108 ct – $10.00
Spic & Span Spray – $1.00
Personal Care
Caress Soap, 3 pk – $2.75
$3 OFF wyb $10 Select Unilever
Degree Mens Anti-Perspirant, 1.7 oz – $1.80
$3 OFF wyb $10 Select Unilever
Dove Body Wash, 12 oz – $4.00
$3 OFF wyb $10 Select Unilever
TRESemme Shampoo or Conditioner, 28 – 32 oz – $4.00
$3 OFF wyb $10 Select Unilever
Pet Care
Iams Dry Cat Food, 3.5lb – $7.49
$5 OFF wyb $20 Select Pet Products
Iams Cat Food, 6 lb – $9.97
$5 OFF wyb $20 Select Pet Products
Pedigree Dry Dog Food, 15 lbs – $10.00
$5 OFF wyb $20 Select Pet Products
Temptations Cat Treats, 6.3 oz – $3.24
$5 OFF wyb $20 Select Pet Products
Whiskas Wet Cat Food Variety Packs, 12ct – $5.00
$5 OFF wyb $20 Select Pet Products