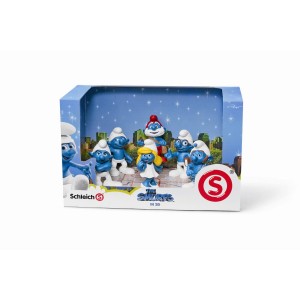 OK, I want you to indulge me a little bit here.  You know that the Smurfs movie was released this past weekend, right?  I have been noticing that these Smurfs Schleich toys are just flying of the "virtual Shelves" on Amazon.  Isn't that funny?  I remember being little and wanting these so bad.  I think I might have had all of ONE.  So this is a great time to go in the attics and see what old toys may be lurking in there.
Anyway, if you have  a little one clamoring for some of these now, this Smurf Movie Set
is a good value for the money as it includes six figures for $20.  Otherwise the singles are going for about $4-5 each or splurge with this Schleich Smurfette's Cottage
for $20.
If you know what I am talking about, how many of these did you collect in your childhood?