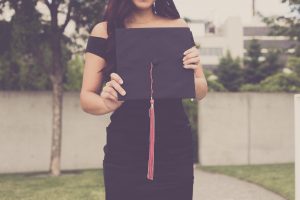 It's that time of year again. GRADUATION!!!!!!
So, of course I always know when graduation season happens, but this year is different. This year I have a daughter graduating from high school. I could get into all of the emotions, but as it turns out. I don't want to cry today so today let's just talk about throwing a great graduation party!
As it turns out, having a child graduating is expensive! Between the cost of the cap and gown graduation package, senior pictures, invites and announcements and all of the other costs that come along with this final year of school (trips, events, etc), it has added up quickly! That means that I need to plan a graduation party that is as cheap as possible!
Budget Friendly Graduation Party Tips
Search Online for FREE Printed Banners 
No need to buy all of your decor at the party store because you can find some great, printable banners and other decor online for FREE.  
Serve Just Snacks and Appetizers and Drinks
Don't feel required to serve a meal at the party, but do feel free to serve snack foods and drinks. 
Fill up some coolers with ice and dump some soda, juices, bottled water, etc in it. Doing this ensures that your drinks stay cold and your fridge stays clear for food and snacks. 
Add Some Lighting
I love, love, love garden lights. They just add a touch of class and beauty to outdoor spaces. Garden lights will look so great if your party extends into the evening hours. 
Add a Fire Pit
Fire pits offer a great opportunity for relaxing and chatting with friends and loved ones. Fire pits are a party must have for any type of outdoor gathering. 
Buy Some Twine and Clothespins 
Clothespins and twine are super cheap, but provide a great option for hanging photos of your cute graduate from childhood to adulthood! Plus, your sweet graduate will then have photos that they can take with them into adulthood!