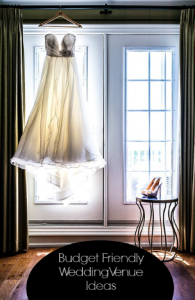 Are you getting married this year?  Are you trying to plan a wedding on a limited budget or are you simply not wanting to start your married life off by spending thousands and thousands of dollars?
There are ways that you can save money on a wedding.  There are some ways that you can cut expenses and there are some ways that you can't, but rest assured, one of the most expensive costs doesn't have to be at all.  While you may dream of your wedding being held in a big fancy venue, your special day can be just as beautiful in a different location, sometimes you just have to think outside of the box.
Here are some budget friendly wedding venues that you might consider for your wedding in order to keep the costs more manageable:
Park.  Some of the most beautiful weddings I have ever been to have been at a local park.  I got married in a park myself and there was only a $50 reservation fee, but that was a long time ago.  Find a park that has features that are special to you.  Maybe a beautiful arboretum or botanical garden or maybe just a beautiful manicured grassy area.
Backyard wedding.  The single most beautiful wedding I have ever attended was in a friends backyard.  Granted they have a beautiful home with a view, but the setting was perfect and since it was in a private location there was absolutely no interruption from public or traffic, etc.  If you or a family member or close friend has a lovely yard, you might consider having your wedding there.  In addition to cost, there are several other bonuses to this venue choice: it's comfortable since you are familiar with it, and since it is very unlikely that the house will be having another wedding or event in it on the same day, you are typically not in a time constraint as you will be at another venue.  
Added tip: So, you absolutely have to have your wedding at the venue of your dreams?  Consider the day that you have your wedding and you could save a significant amount of money.  For example, my sister in law got married at a beautiful vineyard that is very popular for weddings.  A typically venue rental was $3500-$5000 on Friday/Saturday/Sunday, but she chose a Thursday early evening wedding and only had to pay $750 for her venue.  
So as you can see, you don't have to sacrifice on your wedding even if you are on a budget. Just take the time to look around and be willing to look outside the box.