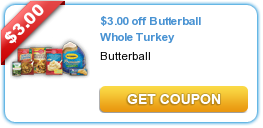 Great timing for these Butterball Turkey Printable Coupons.  Print this one to save $3 off when you buy a Butterball Turkey and four participating Products: Pillsbury Crescent Rolls, Green Giant Canned Vegetables, Betty Crocker Boxed Potatoes or Betty Crocker Stuffing.
These Butterball Turkey Printable Coupons are good ones to print right now that you can combine with store sales or other coupons to get a very sweet deal. For example, last year Green Giant vegetables were on sale during this time for just 66 cents per can.  I also expect to see all three of the other items go on sale from now through Thanksgiving. You can also combine with any promotions your store may run like Get Free Turkey when you spend an $x amount of money. This is a great printable coupon to have, don't miss out!
Don't forget to make your savings even greater with this $5 rebate offer available on Butterball turkey.