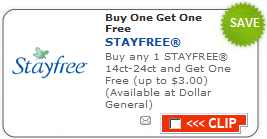 There is a new buy one get one free Stayfree product coupon available (two actually).  This week these products are on sale at Rite Aid for $2.99.  You could do the following deal:
Buy 2 Stayfree Maxi Pads @ $2.99 each
Use one Buy 1  Get 1 FREE Stayfree printable coupon
PLUS use one $1/1 Stayfree Product 11/7/2010 RP Insert or $1/1 printable (IE) Printable (FF)
Pay $1.99 for both after coupons (Thanks, Saving and Giving!)
You could also wait for a buy one get one free sale to get two FREE.  I want you to know that these coupons print with the wording "Available at Dollar General" and "Available at Family Dollar." However, the coupon doesn't state that the coupon is only good at those stores.  In fact the coupon says: "Redeem at Food, Drug or Discount stores accepting coupons."  The coupons I printed expire 30 days from the day I printed them.