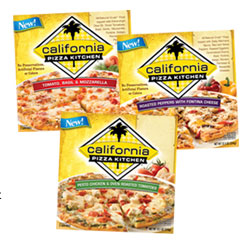 You can print $1/1 California Pizza printable coupons on Facebook.  This is a manufacturer coupon that you can use at any store that accepts printable coupons.  but if you have a Target store, there is also a $2/2 Target store printable coupon you can combine to get the following deal:

Buy two California Pizza 12 inch $5 (through 4/28)
Use $2/2 California Pizza Kitchen, 12 in, TARGET coupon Target.com (exp 05/05/2012)
PLUS use two $1/1 California Pizza Kitchen, 12 in,
Pay $3 each after coupons when you buy two
I think that's a very good price for a 12 inch pizza.  Check out other Target deals here.
Thanks Totally Target!