Ooh! Cashmere – and it's on sale! If you've always wanted a nice cashmere sweater, but couldn't justify spending the money, here's your chance.
Pop on over to Macy's and check out this sweater: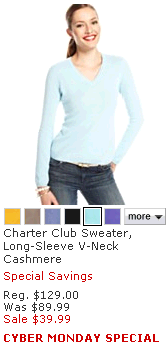 They have a bunch of different colors to choose from, I just like the baby blue.
You'll get free shipping with your order of $75 or more, and there are tons of other great deals and discounts on there today, so take a look around.