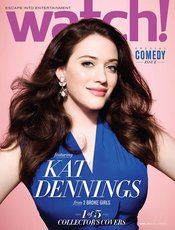 Keep up with all of your favorite CBS shows, entertainment news, fashion, travel, sports, news, food, music and more with a subscription to CBS Watch! magazine from DiscountMags.com. Today only, you can snag a one-year subscription (6 issues) for just $3.50 when you use the code COMMONSENSE at checkout!
Besides the super cheap magazine subscriptions, one of the reasons I love DiscountMags.com
is that you don't have to worry about getting whopped with auto-renewal charges! Also, you can get an immediate refund for undelivered issues, if you cancel your subscription within 6 months. Find out more about their policies and guarantees HERE
.