Back in May, I posted about 40 finger lights for $5 on Amazon. A few days after I posted that, I purchased some for my kids.
Well, I actually forgot that I ordered them, and lookie what arrived in my mailbox this morning…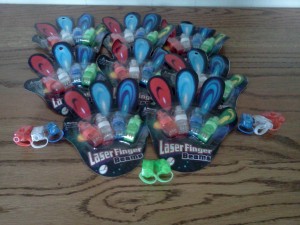 They definitely took a little while to get here (about a month) but the kids love 'em! I was a little surprised at the quality of them too. We used to pick up other finger lights at the dollar store, but the ones I ordered were a little bigger, sturdier, and brighter. These LED finger lights also have replaceable batteries, but I'm guessing it would probably be cheaper just to buy more finger lights…
I'll be handing out most of the red, white, and blue finger lights this 4th of July, but they each got one pack now. They can use them for reading lights at night, and I'll just hand out more as the lights die.
I'm definitely planning to pick up another set or two of these! So glad my kids are simple like their Mama!