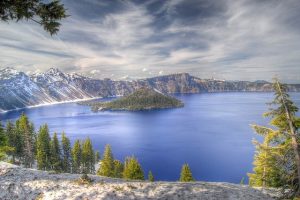 Okay, truth be told I have been really feeling sorry for myself during the shutdown. I love my time at home with family, and I am so very thankful for our health, but I am silently wishing that we can be planning our vacations that we were so looking forward to this summer. 
Since it looks like those vacations just aren't going to happen, we've decided to work on making our yard a bit of a backyard oasis and learning together as a family. We have spent countless times learning all about our dream vacation destinations, and we have discovered that many of the National Parks that we want to go to have virtual tours available. If you have been wanting to check out these places too, look at these sites!
Check out These National Parks with Virtual Tours
Have you ever visited Crater Lake? The country's deepest lake has 3 webcams available to let you "visit." 
Only 1 webcam is here, but honestly, that's all you need. Grand Teton is amazing!
Denali is one of those parks that I have dreamed about visiting forever! You can go and visit Denali National Park via one of their 5 webcams!
Not sure any park can top the 15 different webcams that you can watch at Glacier National Park. 
There is nothing quite like the scenery at Yosemite, my friends and eight webcams will help you check it out. 
I have been to Grand Canyon National Park and I loved it. The seven webcams here treat you to a wonderful view of this spectacular place. 
Eight webcams are available to watch at Rocky Mountain National Park.
Use the nine webcams from Yellowstone National Park, to check out the amazing scenery and wildlife within the park.