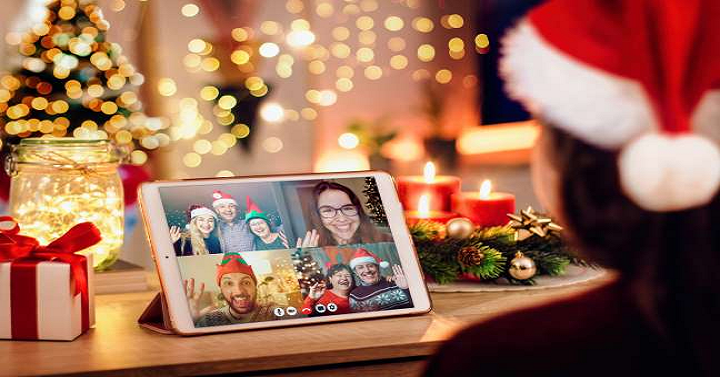 Things this holiday season look different but that doesn't mean we can't spend time with those we love, safely. Here are some great Christmas games and activities you can do with your family over zoom! They're also perfect for your kids to play with their friends while they're out of school on Christmas break!
Christmas Scavenger Hunt (great zoom option)
My kids used to do this with one of their teachers from last year and had so much fun. Here were the rules of the game. First, the item you found had to come from a different room than where you were sitting. Second, once the game was over, everything had to be returned to it's home. How was it played? Simple! The teacher (or person in charge) would call out a shape, color or theme (starts with letter S etc.) then each person had 30 seconds to run into another room and find something that fit that description. Then they'd switch and someone else would call out a topic/theme.
Christmas Heads-Up (great zoom option)
If you've played any version of heads-up then you know exactly what to do! To set up you'll simply need to come up with different Christmas/Holiday characters or items (such as: Christmas Present, Santa Clause, Reindeer, snow flakes, Mrs Clause, Snowman, Christmas Tree, Ornaments, ect) Have each person pick a card from the deck and hold it up to their head (without seeing the card). Then you'll begin asking questions to figure out who or what Christmas item they are. If you're playing this one over zoom make sure you select to not see your own camera so you're not seeing your card as you put it up to your forehead.
Christmas Bingo (great zoom option)
Print out a fun game for your kids to play at home or even with their friends over zoom! (Great for grandparents to send to their grandkids in the mail too) Simple look up or create a fun Christmas or nativity bingo card (great way to tie in the true meaning of Christmas!). Then take it around to friends or have the kids sit at the table to play. This one is great because you can play with as few or as many people as you'd like.
Christmas Superlatives (great family zoom option)
If you're looking for a fun game to play over zoom with the family this is sure to bring lots of laughs. You'll need to print pictures of each person playing so that everyone has a copy of that person (so if you're playing with 5 people, you'll need to print out 5 pictures of "Jane", one for each person). You could also have everyone write each persons name down on a piece of paper. Then you'll ask a question such as "Who is mostly like to peak at their presents early?" and see who agrees with who. If you voted for the majority, each person that voted gets a point. Continue onward until you've reached your desired number of points.
Christmas Pictionary (great zoom option)
This is perfect to play with any number of people! You can divide your players up onto teams. Then first person to go will pick a card and have one minute to draw the corresponding clue. They're team has one minute to guess to earn themselves a point otherwise it's turned over to the other team. Come up with some fun Christmas themed topics like your favorite Christmas candy, Christmas movies, songs, etc.
Christmas Charades (great zoom option)
This one we've played over zoom and it worked out perfect. Just add a Christmas twist to the traditional game of Charades! Remember, there's no speaking for the person acting it out and the team that guesses first, wins!
Gingerbread House/Cookie Competition
Here's a great one to set up for your kids to do at home together. Make it fun and put them together on teams or have them each decorate their own. You could easily award the most creative/craziest one with something fun (picking the Christmas movie for the night or who you'll gift your cookies too).
Although this year will look different for many of us you can still create lasting memories and share good laughs together this holiday season!